Single Ladies - Learn Music Production
Beyoncé's Single Ladies - written and produced by Chris Stewart (a.k.a. Tricky), Terius Nash (a.k.a. The Dream), and Kuk Harrell of Atlanta-based RedZone Entertainment - rapidly ascended the charts in late 2008, and, at the time of writing, tops Billboard Hot 100, Hot R&B/Hip-Hop Songs, and Hot Digital Songs. At first listen, Single Ladies may sound like a simple club beat, but actually, the depth and detail of this song's composition, arrangement and production is paramount. The backbone of Single Ladies is an explosive kick drum sample taken straight from the ModernBeats Library, further empowered by RedZone's clever accents and embellishments: snappy delays, reversed samples, crafty downsampling, epic-sounding strings playing against pitch-bending ARP2600- style synths. Single Ladies uses every trick in the book, plus invents a few of its own. To help understand RedZone's daunting skills, Hit Talk reveals the production techniques used in Single Ladies in our most elaborate Hit Report yet! You can find out about the mix and frequency separation, plus the woodwind production in this online preview, or purchase the full report below to read our comprehensive analysis.
| | |
| --- | --- |
| | |

Mix & Frequency Separation
As we mentioned, Single Ladies sounds simple. However, one look at Hit Talk's frequency separation map shows a much more complex tale, revealing the frequency ranges occupied by each track in the song. The kick occupies a conventional range of about 30Hz to about 200Hz, yet what makes the kick special is that it fills that range. It has resonant peaks at 36Hz, 55Hz, 95Hz, and plenty of resonance between 95 and 200Hz. Any acoustic kick will have several peak resonances, but this is an exceptionally full kick: a perfect choice for a song like Single Ladies that contains intermittent bass parts.
The bass parts within the song consist of a huge-sounding synched organ-style synth (sysn1, sysn2) and a bending square wave bass synth (bsn1, bsn2). Both of these instruments are introduced in the hook, starting with the synched synth which contains upper harmonics extending past 500KHz. Since the two instruments play a call and response, naturally their frequencies do not conflict.
Single Ladies's synched organ synth sound is a 3-oscillator combination. One oscillator is a rich sub-bass sine wave, and the second oscillator is a gritty saw waveform one octave above the sub-bass (both occupy sysn1). The third oscillator resides in the tenor range (sysn2). All three oscillators are controlled by a common pitch wheel bending one full octave up, then back down. At the top of the frequency diagram are the noise swells. The swells are integral components of the song serving as segues throughout the song. Specifically, Single Ladies's noise swells function as seamless transitions from one section of the song to the next - an excellent tool to append a song's arrangement with finesse and style. A noise swell can be accomplished via a simple process like applying a modulated filter signal to a synth's noise oscillator, however, the swells in Single Ladies are more complex. They use a programmed patch containing oscillator and noise sweeps, filter and pitch modulation, and delay. The oscillator pitch and filters modulate to the higher frequency range toward the end of the swells, resulting in the characteristic low to high crescendo. Next, starting from the very beginning of the song, there's a brief staccato note played at E4 (fb). If you've ever played a finger bass or a fretless bass on the high frets, you'll recognize this timbre immediately. Miking a bass amplifier, then playing E4 on the high frets is an easy way to produce this timbre.
The vocals (voc1,voc2,voc3) are separated on the Frequency Map into their fundamental notes, harmonics, and sibilant consonants. There is some overlap between voc1 and voc2 because there are so many vocal harmonies. One of the key tracks in this mix is the woodwind melody (w1, w2; fundamentals, harmonics), which we'll explain at length below in our track detail map. The claps occupy a broad range of frequencies in the treble range, and finally a vibrato synth (vsn1, vsn2) can be heard playing an E5 note on the backbeat throughout the song. This track adds critical interest to the song by using a sine-wave LFO to modulate the pitch of the synth, which is routed periodically through a chorus filter. So, from a glance at the Frequency Map, it's easy to see just how complex this straightforward-sounding song truly is.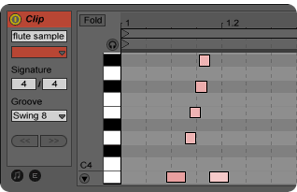 Woodwind Accent Production
One example of how a simple-sounding accent can take many production steps is the woodwind accent that plays throughout the song. This accent acts as a playful taunt. It sounds more like a bird song than a melody. First, let's explain the pitch of this sound. It's quite easy to load a flute or clarinet sample into your sampler, set your pitch bend range to 8 or 9 semitones, and get something that sounds like this woodwind sample. Most likely, however, the pitch bend wheel won't satisfy. That's because this sound was created using the pattern of notes shown in the illustration above (B3, D4, E4, F#4, Ab4, B3). They're played quickly enough that they effectively blend together. The last B3 is attenuated so much that it's barely audible compared to the other notes. In addition, the last B3 makes a quiet bend down to a A3.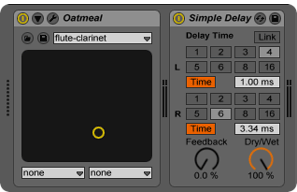 The previous step doesn't quite complete the effect. You still need to add yet another layer of editing. The woodwind is layered with a quick left-right delay effect, that we've explained here. At right, we've used the free synth called Oatmeal to emulate a woodwind sound. Next, we've used Live's Simple delay (a stereo delay) to control the left and right channels of audio. The simple delay allows you to delay via synched "steps," or via milliseconds (but not both - hence ignore the gray highlighted "4″ and "6″). We've set the right channel to 3.34 ms, and the left channel to its absolute minimum: 1 ms. Setting the delay to 100% wet separates the left and right channels completely. Hence, the left channel hits the ear just 2.34 ms before the right channel. That creates what's called the Haas effect, where the listener perceives directionality and width in the signal even though both channels use exactly the same volume.
These few steps should create a close match to the woodwind sample in Single Ladies. Like the clap production (which we explain in the full report), this may look like a lot of trouble for a small effect, but look at it this way: a producer builds an arsenal of production skills and techniques, and begins to implement those skills with increasing ease and fluidity in every production. It might take a lot of talk to pin down specific pro techniques, but when you've learned and practiced these techniques, half of your work is done. Now you just need to rely on your producer's ear to employ them wisely.
Chris Stewart, Terius Nash , and Kuk Harrell, have all proven themselves independently, and collectively as Redzone Entertainment, earning their highest acclaim as co-writers and producers of Rihanna's ethereal masterpiece, "Umbrella." Beyoncé's Single Ladies is further proof of the magnificent synergy that ignites when their complimentary skills unite.
Order the full "Single Ladies" Hit Report & Get it all…

Single Ladies Song Format Map! (View All)
Single Ladies Frequency Separation Map! (View All)
Single Ladies Song Arrangement Map! (View All)
Single Ladies Groove Analysis Map! (View All)
Single Ladies Chord Progression Map! (View All)
Single Ladies Track Detail Map! (View All)
Single Ladies Song Arrangement Step-by-Step Report!
Single Ladies Mix & Frequency Separation Report!
Single Ladies Music Production Report!
Single Ladies Vocal Production Report!
Single Ladies Drum Production Report!
Single Ladies Hook Production Report!
Single Ladies Synth Report!
Single Ladies Effects Report!
Super Bonus: VIPKIT#20, 193 Samples, $30 value!
Instant Download $14.95
Enhance Your Music Production Skills Today!