Analyze Your Mix Visually
To mix a song correctly, and to build your audio mixing skills, there is nothing more important than a quality monitoring system. At Hit Talk, we've stressed this important truth over and over. Yet with today's technology, we're not just talking about aural monitoring. Coupling with visual monitoring can only improve your mixes. An ideal professional monitoring environment would consist of an acoustically treated room, near-field monitors, far-field monitors,  a sub-woofer, plus a set of trustworthy visualizer plugins to ensure full mixing accuracy. Beginners often lack even the most basic tools, and their mixes suffer from obvious mistakes.
Mixing with a Spectrum Analyzer
If you have a rudimentary system, or even if you're still learning to trust how your ear perceives the mix from monitors, you can augment your aural monitoring system with two simple visual aides. The first is a frequency analyzer. Many EQ plugins come with built-in analyzers. One free VST analyzer is Fre(a)koscope by Smartelectronix.

Pictured above is a mix created without proper monitoring. To have a look at how well-balanced the highs, lows and mids are, we've installed Fre(a)koscope as a VST plugin on the master channel. The gray line shows the average peak level of all frequencies on a specific track. the decibel level drops off toward the treble range. The producer probably used PC speakers, compensating for a perceived lack of bass by pumping it up, swamping the treble frequencies. On a well-balanced monitoring system or hi-fi system, the bass will be too much, the mix will lack detail, and any A&R official or producer who listens to it will kick it to the curb.

Above is a fully-mastered Billboard hit. The spectrum is even, and the bass frequencies are only slightly louder than the mids and treble. The gray peak indicator line shows a balanced spectrum. While there's no replacement for quality monitoring, and a good ear, a spectrum analyzer like this provides a fantastic visual check on your mix's frequency balance.

Using a Phase Scope to Track Stereo Image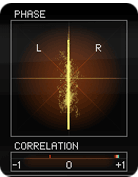 A second diagnostic tool you can use for your mixes is the phase scope. Some DAWs incorporate a phase scope, and you can download a free phase scope called Stereotool at www.fluxhome.com. Here, we're using the phase scope from T-Racks 3. Essentially, a phase scope shows the similarity between the left and the right channels. If your mix is built from unprocessed mono samples, it will look something like the diagram at left. A complex stereo image should yield something like the diagram at right, and this is best accomplished using techniques we've explained in our other free online production tips.
The phase correlation, measured at the bottom of the scope should float between +1 and 0, if it drifts too far toward -1, you have too many frequency conflicts. By keeping your eye on the scope, and the phase correlation meter, you can judge the overall quality of your stereo image.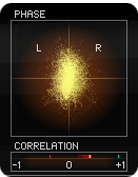 Pictured at left in the second phase scope diagram is a beat with a healthy stereo image. The phase correlation is still well above 0, and you can see that the stereo image is nice and wide. You can get a wide stereo image like this by panning, but using haas-style delay effects (delaying the left channel by a 20-30 (or more) milliseconds.
Always pay close attention to your mix, and make sure all of your samples occupy a position in a three-dimensional field of hearing. Pan and widen with diligence. One invaluable tool for efficient stereo imaging is the AAY Stereolizer, which uses a phase trick to create a stereo image. In every mix, give your listener a diverse landscape. Create space between the song elements by using positioning. Below, we'll show you a little more on analyzing the frequency spectrum of your tracks. The phase scope pictured above is extremely precise and comes with T-RackS 3.
Mixing with a Multi-Track Spectrum Analyzer
Below is a shot of Bluecat Audio's Freqanalyst Multi, an amazingly useful mixing tool. A producer can run multiple instances of the Freqanalyst Multi to track the frequency response of selected tracks in your mixing session. To identify which tracks are in conflict, you can compare them like we have in the image below.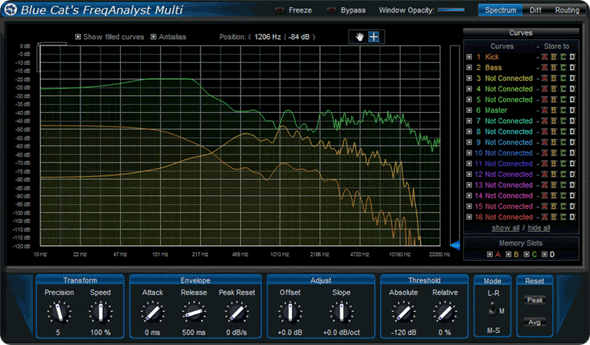 Take a song like "Nuthin But a G Thang," on which we wrote our latest Hit Report. Since the song uses such a resonant kick sample, the bassline and kick drum both stand to conflict. When you're thinking about how to EQ each channel, it's important to consider which frequencies to duck and which to emphasize. Above in the Freqanalyst illustration, we're analyzing the bass, kick, and the main mix. It is clear that the bass and kick share much of the bass frequency spectrum. There is a chance of frequency conflict. In particular, you can see where the frequencies peak between 50Hz and 250Hz. Lower the gain of either the bass or of the kick at that frequency by using a bandpass (bell curve) filter in your parametric EQ.
Pre and Post Compression Peak Visualizer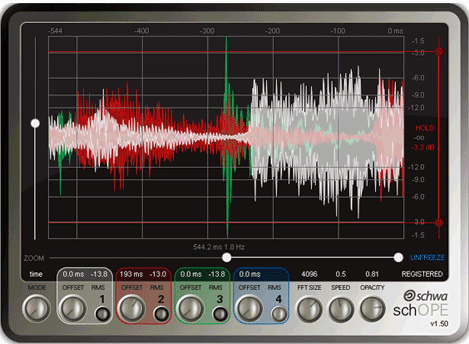 At left is probably one of the best all-in-one visualizer plugins you can find: SchOPE by Stillwell Audio. You can use this to analyze your signal both pre- and post- compression so that you can gage the effect your compressor is having. Is it limiting enough, or too much? is it mashing the peaks? In addition, SchOPE contains a spectrum display, and a phase scope.
Again, while these tools are handy references, there is no substitute for good ears. These techniques will allow you to judge your mixes on at least a few criteria without having to resort to extremely expensive monitors. If you're still not sure about mixing, give these tests a try, see how your mixes stack up.