Audio Recording & Audio Production Tips
Learning top audio recording & audio production techniques as heard on the radio & Billboard doesn't come easy. That's why Hit Talk was created, to help teach the top skills and tricks used by today's top audio engineers. At Hit Talk, we provide numerous audio production & sound recording tips via our Hit Reports as well as our free online Audio Production Tips. Hit Talk's hit reports explain the fundamentals of how Billboard Hits are put together, using numerous audio recording equipment and software illustrations & maps. Our free online audio recording tips provide numerous tutorials, lessons, & advice on how best to improve audio production techniques to create better music using programs such as Reason, Ableton Live, and FL Studio.

Learn Audio Recording & Production w/ Hit Reports:

Learn Audio Recording Techniques w/ Song Maps
Starting your audio recording studio requires having the skills to run it properly. That's what Hit Talk's song maps are for. Each Audio Production Hit Report includes expanded, detailed coverage and illustrations of a hit song's audio recording tips, audio recording techniques, and tricks, showing you exactly how Billboard hits are put together. In effect, you learn multiple aspects of digital audio recording all in one shot. No matter what your audio recording interface is, Hit Talk's Hit Reports speak to every program, even audio recording freeware or shareware.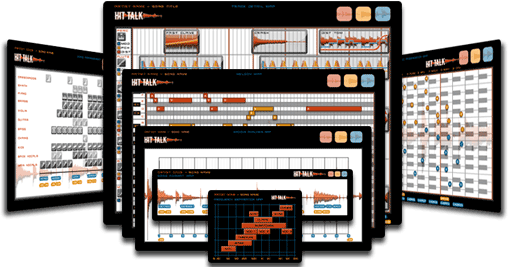 So, what exactly is Hit Talk? How will it help me improve my audio recording skills? Hit Talk is not only a growing resource of production knowledge, but it is an audio recording producer community as well: a forum you can query for advice. Plus, you can also can insight into the audio tricks used by some of today's hottest Music Producers in our "Industry Interviews" section. For more information on how our Hit Reports help improve engineers sound & audio recording skills, watch our Hit Talk Video.