Subwoofer Magic in FL Studio
Subwoofers are a respectable medium of creativity. Urbanites might respectfully disagree, but we maintain that the subwoofer is a unique creative medium for the most inventive of Hip Hop production. If you appreciate sound design, this tip article is for you. Let's give you an idea of what we're talking about. The introduction to "Bring me to Life" by Evanescence is a perfect example of sub-bass creativity. Since it's invisible to standard stereo speakers, it gave car stereo aficionados a chance to show off the superiority of their system. One way to generate dramatic bass effects is to time stretch.
At it's extreme, time stretching mangles sound. Fruity Loops music software, aka FL Studio, offers a broad range of time stretching effects in its slice editor. Simply stretching a bass sample using various algorithms can turn your subs into lethal weapons. All it takes is wise manipulation of simple parameters.
Follow These Four Steps: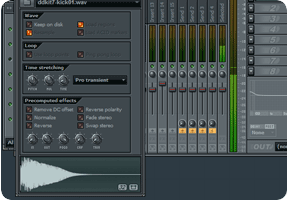 1) In FL Studio 8, the step sequencer is the first thing you see. Double clicking on "kick" in the step sequencer opens up the menu shown in this illustration: the sampler channel panel.
2) Select a bass sample from the FL library or select it from your own sources by clicking on the file browser (located at the top of the diagram).
3) After selecting a suitably bad-ass kick sample, open the stretching algorithm menu by clicking on the algorithm name. At left, the algorithm is pro transient.
4) Stretch the kick by moving the time knob. Experiment by switching the algorithm, the pitch, the amount of stretching and also the pre-computed effects within Fruity Loops. Like all low bass production, monitoring with a sub is tantamount to a good finished product. Any program that allows time-stretching can produce exceptional and unique subwoofer effects. All you have to do is experiment - and enjoy!