Morning After Dark - Learn Drums, Mix
One of the most creative music producers of all time is, without question, Tim "Timbaland" Mosely. Timbaland quickly garnered a devoted following by constructing masterpiece beats so stylistically unique, he revolutionized urban music production. Timbaland became a pioneer by integrating organic samples into hard-hitting hip hop rhythms. In our latest Hit Report, we wanted to cover fresh techniques. Timbaland's Morning After Dark was the obvious choice. The song is thick with valuable lessons. The drum beat alone sparkles with classic Mosely mischief. In the full report, we illuminate every aspect of the drum beat's production from mix to rhythm, complete with step-by-step audio and illustrations. Plus, we cover the song's mix and arrangement, and also reveal handy synth programming and arpeggiator tricks. Study this one closely, and you'll walk out a better producer.

Morning After Dark - Drum Production Audio Tutorial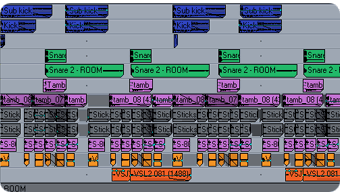 The rhythmic foundation of a song, the beat, is often thought of in the simplest of terms: lay down a pattern for the kick, the snare, and a ride cymbal or a tambourine, and you're done; you can move on to the rest of the song. But carefully examining Timbaland's drum beat shows the difference between making a beat and producing a beat. At left, is a quick glance at all the tracks it took our top producers to re-create Timbaland's drum beat accurately. The image shows clearly what any producer with ears can hear: that there is more than just a drum recording here.
Let's explain what's going on. The blue samples at the top represent the kick drum. Above, we've recreated the kick drum sound by stacking the same kick three times, separating each layer with an equalizer in Sonar. As we explain in the full report, stacking the kick allows us to separate it in the frequency spectrum and treat the bass, mid, and high frequencies with different mastering processes, piecing them all together to form a very finely-tuned kick drum sound. On the backbeat are snare samples which have also been layered to match the original beat. Below that is the tambourine line (purple), sidesticking samples that have been separated using a Haas method (gray), and finally vocal samples.
You can click on the image to get a more detailed look at the sequencer, but if you want to see exactly how this beat was made, the answer lies in the full Hit Report. In what's probably our best Hit Report yet, Hit Talk shows you the Morning After Dark drum beat in every detail complete with screenshots of mastering techniques and equalizer settings, plus audio examples. The fine result can be heard in our re-creation: Morning After Dark - Drum Production Audio Example. By downloading the full report and studying our complete lesson in drum production, you'll learn how that beat can be built with very specific production techniques that you can apply to any song.
Melody Map Preview - Bass Synth
At the top of the report, you can see the Melody Map preview, showing the first 2 bars of the Morning After Dark bassline. Since many of our readers are new producers, some who don't yet routinely compose by hand, we strongly encourage you to try to play this bassline as we've illustrated it in the Melody Map preview above. It's a two-bar pattern. Although we've shown only one bar, you can simply substitute the B 8th note at the end of the first bar for another A flat, like what's played in the rest of the melody.
This exercise is not to show you the melody, so much as it is about learning about dynamics. Carefully listening to another producer's performance, whether or not it was originally played by hand, will train you to play with some sense of dynamics. To this end, you can pick a saw synth patch that's roughly equivalent to the one that Timbaland uses, but really any synth with a short release time will do the trick. Below, you can see the oscillator section of Reason's Thor synthesizer. We've modified Thor's "chime bass" patch, which is already close in timbre to the bass synth used by Timbaland.

Above, we've modified the balance between oscillators one and two, plus switched up the filter routing. It's close to Timbaland's bass sound. The timbre isn't really the point. Above, the amp envelope is shown just to the left of "Global Env" bottom right. Once you've set that envelope, give the melody a try on your own keyboard. You'll quickly find that each 16th note has to be short and snappy, or else the feel and flow of this integral component to the song simply evaporate. It's the dynamic contrast between these short staccato 16th notes, and the long drawn out 8th notes that give this bassline the feel and power to drive the song. Learning to re-produce these dynamic subtleties on the fly will make you a better composer, because while you're playing a riff that you invented, you'll know how to embellish it and bring it up to its full potential. The Melody Map acts as an aide to this process, and of course any report that contains a melody map will be useful for the same purpose.
Morning After Dark - Closing Thoughts
Morning After Dark is a classic example of the depth, detail and creativity Timbaland is capable of as a producer. And though the vampire-themed song has fared better on charts overseas than it has at home, Morning After Dark is still an irrefutably sizzling track, well-worth studying.
Order the "Morning After Dark" Hit Report & Get it all…

Morning After Dark Drum Production Audio Tutorial! (Play MP3)
Morning After Dark Song Format Map! (View All)
Morning After Dark Frequency Separation Map! (View All)
Morning After Dark Song Arrangement Map! (View All)
Morning After Dark Melody Map! (View All)
Morning After Dark - Detailed Audio Examples & Screenshots
Morning After Dark - Step By Step Drum Production Report!
Morning After Dark - Song Arrangement Step-by-Step Report!
Morning After Dark - Synth Sound Design Report!
Morning After Dark - Production Instruction with Cakewalk Sonar!
Morning After Dark - Production Instruction with Reason 4!
Morning After Dark - Mastering and Equalization Report!
Morning After Dark - Synth Arpeggio Production!
Super Bonus: VIPKIT#24, 135 Samples, $30 value!
Instant Download $14.95
Enhance Your Music Production Skills Today!