Stereo Spread: Timbaland Style
A few months ago, in one of our Reason production tips, we wrote about how to use mixing gear (or the Reason mixer) to transform mono sounds into captivating stereo images. Since then, many of our readers have asked privately how to replicate that effect using a standard software DAW such as Audacity, or Pro Tools without having to route through a mixer. The answer is quite easy: do it Timbaland style. Timbaland produces using the Ensoniq ASR-10: a sampler that allows a producer to work with two copies of one sample. You can hard pan one copy of the sample to the left, and the other copy to the right, and create a stereo image by delaying one sample in relation to the other. In addition to creating a stereo image, the technique we show below will pave the way for additional stereophonic experiments you can implement to give your productions a tantalizing shimmer that other producers will be hard-pressed to match. We're serious. Check out how it's done:
Duplicate Your Sample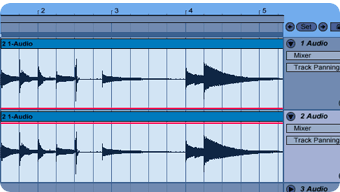 In many of Timbaland's tracks you will hear samples that Timbaland recorded, then tweaked to a perfect stereo image in his ASR-10 or in a sequencer. Take, for example, some of the background tracks in "Bounce". This is a very easy technique to perform in an ASR-10, but it's even easier in a DAW like Ableton Live. At left, In Ableton Live, is a mono recording we made of a few unrehearsed notes on the guitar. In Ableton Live, you can copy a sample clip easily by using "CTRL+left click" and then dragging the file to the next track. If your DAW doesn't allow this action, most likely it allows you to copy and paste. So, copy and paste your mono sample clip into a new track, and synchronize it with the original clip.
Pan Your Tracks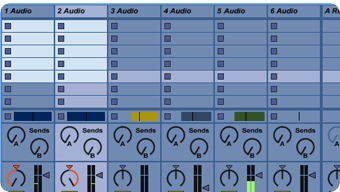 Once you have two identical mono tracks, the next step is to pan your two tracks to opposite sides of the stereo field. At left, in Live's mixer view, you can see that we've panned track 1 all the way to the left, and track 2 all the way to the right. To get to Live's mixer view, all you need to do his hit the "tab" key, which toggles between mixer and sequencer views. By creating two identical mono tracks - one panned hard-left, and one panned hard-right - essentially we've created a stereo track out of two mono tracks. But, in contrast with recording a single stereo track, the action of panning two mono tracks has the massive advantage of being able to change one side of the stereo image independently of the other side.
Create Your Stereo Image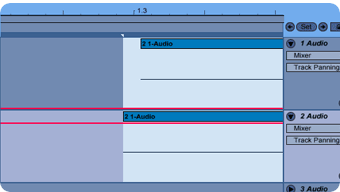 Now, you're ready for the final step. At left, we've zoomed to an extreme close-up of the very beginning of the sample clips, which start at beat 1:3 on the timeline, or the third quarter note of the first bar. From here, the process is easy. Simply click on either clip and offset the sample's timing by dragging it forward (to the right, graphically) by a range of 15 to 60 milliseconds in time. As you shift the clip from smaller millisecond values to larger, listen closely how the stereo image changes. The greater distance apart the start of each clip becomes, the wider your stereo image. It's as simple as that.
Create Your Own Sound
This method of creating a stereo image out of 2 mono samples is a particularly strong, yet flexible method. Not only is it fast and easy, but it can be done with any mixing software; Cubase, Audacity, Logic, you name it. Another advantage to this widening method is the independence you create by turning 1 sample signal into

2 independent samples, left and right. It's this independence, between left and right, that makes this technique such fertile ground for experimentation. Here's why: routing a mono sample through a stereo delay or chorus restricts you to using the same effects for both left and right. The pre-mix, sample-copying method we explain above gives you the control to treat each channel with its own set of effects processing, dynamics processing, or synthesis as desired.
If you enjoy Timbaland's production style, and you want to push new frontiers just like he does, this technique is a sure bet. By processing each channel - i.e., each side of the stereo field - with unique effects, you can treat the listener's brain to a new sonic goodies it has never tasted before. For example, what happens when you process one side of the stereo image with an overdrive, and the other with a subtle phase effect? The same sample is playing in either ear, but it has a different timbre in the right ear than it does in the left, lending not only depth, but also shape to the stereo field. Overdrive/phase was our arbitrary suggestion, but by now, your imagination should be generating plenty of its own possibilities. For now, we'll leave you to experiment. Keep the beats rollin' and the sequencer scrollin'.*

*When experimenting with the stereo image like this, don't forget to check for frequency conflicts, interference, or canceling by summing your song to mono. This is a prudent step in every production, but it becomes especially important with experimental stereo production because the risk of conflicts/cancellation is greater.