Taming the Monster Mix
You can never have too much RAM, CPU Power, or too optimized a system. A basic computer-based studio will handle a basic DAW sequencer, like Cubase or Sonar; it will run the basic bundled plugins, plus some basic VST instruments, and 10 or 15 channels of audio. A powerful system will handle taxing convolution reverbs, multiple instances of heavyweight plugins like T-Racks or the Oxford suite, and monstrous synths like NI Massive, plus dozens of channels of audio. Especially when added together, those devices take a lot of processing power. Thus, even when you have that extra power, you tend to use it. Reaching the limits if your processor and RAM is almost always inevitable, no matter how powerful your system is. With this unfortunate fact unveiled, there are still a number of handy solutions to gain back your computer's might and Hit Talk is here to help. Our expert staff explains how to use bounce and freeze techniques to minimize strain on your CPU, maximize the power of your DAW, make the most of your mixes, and open the doors to whole new levels of sonic creativity.
Bounce Audio & Midi Tracks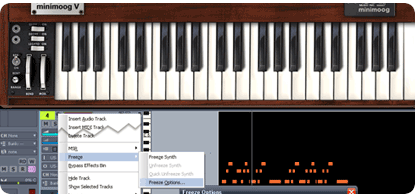 The most conventional way to relieve strain on your CPU is to "bounce." Bouncing is the process of reducing CPU load by rendering effects, instruments, or multiple tracks to a single mono or stereo track of audio, then eliminating the original sources of that audio from your DAW session. For example, if you're mixing a drum part that consists of multiple audio and midi tracks using heavyweight effects plugins, bouncing to a single, mixed drum track gets rid of all those effect-laden tracks, significantly easing the burden on your CPU, and reviving the efficiency of your sequencer. That's the benefit of bouncing. Compared to several tracks filled with numerous effects and instruments, a single bounced track of audio is a light burden.
The obvious disadvantage to bouncing is that it blocks any further changes to the sub-mixed audio within. Once you've saved a project with bounced audio, you're committed to those changes. Hence, unless you're planning on saving dozens of versions of a DAW project in case you need to revert or undo some aspect of your mix, a simpler solution is necessary. That solution is called "freeze."

Freeze Audio & Midi Tracks
Freezing audio means bouncing it temporarily. When you freeze audio, effects, or midi, a track of bounced audio is created, and used as the source of audio. Hence, you still hear all your original audio, however the tracks, instruments and effects that the bounced audio came from are all "frozen" or disabled. Even though they are disabled, they remain in the project. This enables you to unfreeze those effects at any time, should you decide that you need to alter your multi-band compression, or your reverb's late reflections, for example.
Several DAWs contain some kind of freeze function, but not all. If you're using a DAW that can't freeze tracks, you can purchase FX Freeze which is an extremely flexible freezing tool that saves your CPU bundles of power and grants you more choice and control for your tracking methods. Now we'll take a deeper look at bouncing and freezing by showing you how it's implemented in Sonar Producer Edition.
Bounce & Freeze Settings in Sonar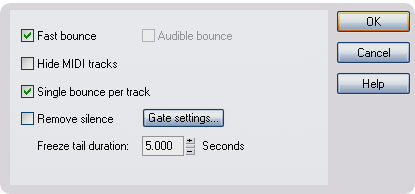 In the first illustration (above), we're using Cakewalk Sonar Producer Edition to produce a melody using a demanding combination of the Minimoog V, routed through a dense reverb, plus multiple stages of compression and EQ. If you click the above illustration, you'll see the "freeze options" menu. You can open the "freeze options" menu by right-clicking the channel you want to freeze, and following the drop-down menu, as we've done above. For convenience, the freeze options menu is shown full-size at left. Sonar Producer Edition defaults to "fast bounce," which means Sonar bounces the audio as quickly as your CPU will allow it to. Be careful with this function. Many hardware instruments and effect devices (and some software) can only process audio in real-time. Thus, fast-bounce can cause errors. If you're not certain whether your software/hardware is compatible with fast-bounce, simply run a test, or leave the box un-checked.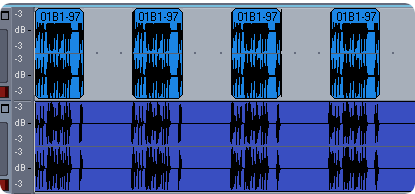 "Single bounce per track" simply means the audio is bounced to a single clip. If, for example, one track contains several individual slices or clips, these are all consolidated to a single clip (see the lower track at left). Leaving the box unchecked results in the clips remaining separate (see the upper track at left). This is a useful function especially if you program beats by sequencing individual drum hits in multiple tracks (for example, the beat we created in "Widen Your Drum Beats"). By allowing the clips to remain separate, you're still free to adjust their timing and rhythm by moving them.
The "freeze options" dialogue box also allows you to remove silence, and gives you the option to use a gate. This removes any silent areas in the track, which reduces the amount of hard disk space your project uses (especially if you've set your project at a high sample rate.) Also, if there is noise such as hum or hiss, setting this option to "remove silence" with the appropriate gate threshold settings will eliminate any noise in blank sections. Finally, adjust the freeze tail duration the same way you would adjust the release of a gate. If your reverb tail lasts roughly 5 seconds, make sure to set the "freeze tail" to match, so all the dynamics of your effects will be captured when you freeze your track.
Now that you know about bouncing, and in particular, freezing, you can't blame your processor or your RAM for flat mixes. By freezing and bouncing your tracks, you can layer your mixes with thousands of samples and high-quality effects without beginning to touch the limits of your processor's power. Of course, it's always best to start with a powerful system over a basic system, since certain soft synths and effects can gobble resources even with a single instance loaded. Yet, whether your system is basic or powerful, you can liberate any DAW session. Empowered with the practice of bounce and freeze, you can afford to push the boundaries of your CPU without fear of limitation. Enjoy the freedom.