Kush - Learn Drums, Music, & Mix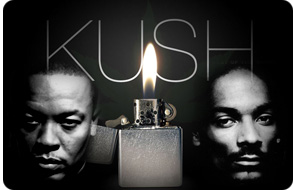 This latest hit report covers Dr. Dre's "Kush" produced by DJ Khalil - Featuring interview audio directly from DJ Khalil himself! The many audio production examples and step-by-step illustrations in the full hit report (download only) make this one of our best reports yet. Enjoy this web preview!

With the song "Kush" , DJ Khalil, long-time producer of the Shady/Aftermath family, has created a modernized, yet authentic G-Funk masterpiece. Realizing the strengths of musician collaboration (explained in the clip at left), Khalil was able to produce a hit worthy of Dr. Dre's legacy. The hook was written by Kobe Honeycutt roughly 2 years prior to the release of what would become the first single of Dr. Dre's much anticipated Detox. Khalil saw the song's potential and ensured it had a solid foundation. Dre jumped on it as soon as he heard it, and with the help of Khalil's experienced ear, the song was sculpted into a brand new Dre hit.
In this Hit Report, ModernBeats examines multiple aspects of Kush's music production and melodic composition including details on producing Khalil's synth sounds, piano performances, drum programming, and much more. A special feature of the full report, downloadable at bottom, is our step-by-step drum and music audio examples, plus 3-part interview audio from DJ Khalil himself. (Play examples below)

Kush – Drum Production (Snares)
Let's start with the snare production. In the full Kush Hit Report, we'll explain how to achieve a snare sound very similar to what you hear in Khalil's song. You can hear the full drum production in the Kush – Full Music Production Audio Example (All melodies intentionally different). The full report contains a detailed step-by-step drum production tutorial with multiple audio examples. Here in the web preview, we'll explain the first steps of how the snare mix is layered within Reason's Kong drum designer.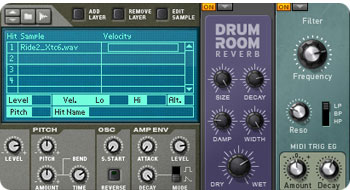 Step 1 – Layering Snares
At left are layered samples from our initial snare mix. This is our first step in creating a comparable snare sound: getting the right samples; then blending them using careful filtering and mixing. We're thus creating a sub-mix for the snares, and we'll show how we integrate that into the rest of the project. The lowpass/bandpass filters give this particular sample a mid-treble boost.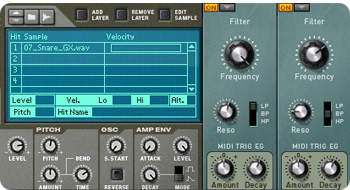 Step 2 – Attack and Decay
The ride cymbal sample is being used for its high-mid content. It's been processed with Kong's on-board drum room reverb to give it ambience and lowpass filter and to shave off the highest, most piercing frequencies of the ride cymbal.
The ambience that this adds to the full snare mix goes a long way toward creating a robust snare sound like you hear in Kush. While it's often fine to use a single snare sample, it's also often necessary to layer, if your samples are missing some elements of the type of sound you're aiming for. For this task, Kong is the perfect tool.
One very important aspect of the Kush mix is that it incorporates a large array of instruments while at the same time giving the vocals all kinds of room. An example of how Khalil accomplishes this is the filtering of the polyensemble synthesizer, which we explain in the full downloadable report at the bottom of this article.
Kush – LFO Synthesizer Production
As illustrated in the Kush Frequency Separation Map (top right of this article), getting a great mix requires that each instrument in the multi-track session is assigned it's own spectrum range. Other instruments may share the same range, but they'll be equalized appropriately, and mixed at different levels and stereo positions to avoid conflicts. So, for instance, DJ Khalil's ascending LFO Synthesizer (asc. synth) is a perfect example of filling the 3khz - 15khz range. While it shares that frequency range with some treble percussion elements, there is no risk of conflicts. In the full Hit Report below we'll explain some of the filtering tricks that can be used to keep instruments from crowding one another in the mix. For now let's focus on some aspects of Khalil's LFO synth production.
The LFO Synthesizer is one of the most compelling aspects of the Kush production, as you can hear in the LFO Synth Production Example. We've chosen to use Reason's Thor polyphonic synthesizer to re-create Khalil's rising LFO synth. That said, nearly any quality hardware or software analog synthesizer can do the job. All you need is an oscillator, a delay, a modulation matrix, and a distortion. Let's get started.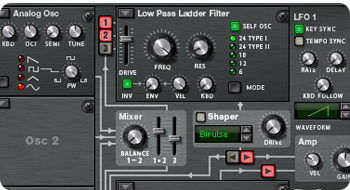 Step 1 – Oscillator
We've used a single analog sine oscillator to begin creating this patch, then routed it through a lowpass ladder filter. We're using the drive on the lowpass ladder to add a bit of gain and high frequency color to the sound. A filter frequency setting of 20 kHz, and a very low resonance setting do the trick.
Note that the shaper is off and the button that routes the signal from the lowpass ladder is engaged, routing the signal to the amp section of the Thor Synth.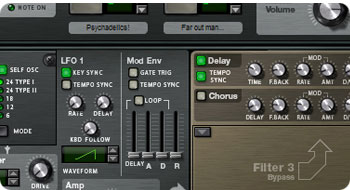 Step 2 – LFO1 and Delay
Next, we're using LFO 1 to ramp the pitch of oscillator 1. Note there's no LFO delay, meaning the LFO begins to ramp pitch as soon as the note is played. The gradual ascent of the pitch comes from the slow rate setting (.7ms).
Delays often enhance production accents like this one, where pitch sweeps gradually from low to high etc. The delay used here is synched to quarter notes, with medium feedback and just a small amount of wet mix to create the effect you hear in the original.
Kush – In Summary
In the full report below, we explain the LFO synth production down to the final detail, and do our best to provide an overview of every stage of the music production process, from composition, to sound design, to editing, to EQ and compression, right up to offering insights to achieving a final master. If you stick it out to the end of the full Hit Report, we guarantee your production skills stand to become a lot sharper.
Order the "Kush" Hit Report & Get it all…

Kush Music Production Audio Tutorial! (Play MP3)
Kush DJ Khalil Interview Audio! (Play MP3 - Part1)
Kush Song Format Map! (View All)
Kush Chord Progression Map! (View All)
Kush Frequency Separation Map! (View All)
Kush Song Arrangement Map! (View All)
Kush Melody Map! (View All)
Kush - Detailed Audio Examples & Screenshots
Kush - Melody and Composition Workshop!
Kush - In-Depth Step-By-Step LFO Synth Tutorial!
Kush - In-Depth Step-By-Step Analog Synth Tutorial!
Kush - Step-by-Step Drum Production Report!
Kush - Song Arrangement Step-by-Step Report!
Kush - Groove Analysis Report!
Kush - Music Production with Ableton Live!
Kush - Production Instruction with Reason 5!
Kush - Chord Progression Report!
Kush - Reason Rewire Step-By-Step Report!
Kush - Stereo Enhancement Music Production Report!
Kush - Master Buss Multiband Processing Report!
Kush - DJ Khalil Interview Audio!
Bonus 1: Free VIPKIT#15, 114 Samples, $30 value!
Bonus 2: Kush MIDI & WAV Drum Loops, $20 value!
Bonus 3: Kush Reason 5 Synth & Kong Presets, $20 value!
Instant Download $14.95
Enhance Your Music Production Skills Today!