Right Round - Learn Audio Production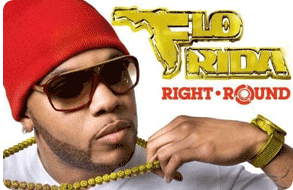 It's easy to judge a song by its chart performance or the amount of money it makes. On those counts, Flo Rida's "Right Round," a re-conceived version of the 80's smash hit "You Spin Me Right Round" by Dead or Alive, has been a huge club and radio success. The triple platinum single has hit #1 on charts around the world, with record-setting digital download sales. But what's behind that success? In fact, Right Round became a musical tour de force for one main reason: its domination of the dance floor. From the powerful new producer DJ Frank E, comes a devastating beat: a thick, driving kick with a mixture of snare layered with classic ModernBeats claps. The song's production hits like a bomb: exploding with 80's-style synth hooks and flourishes, propelling the voices of Flo Rida and newcomer Ke$ha to new-found fame and fortune. Yes, Flo Rida has become "king of the club," and in the full Hit Report below, you will find out exactly how it happened. In this online preview we'll examine chord progressions, and synth production.
| | |
| --- | --- |
| | |

Right Round Chords - Chord Map Preview
The chord progression in Right Round is, of course, the same progression used by Dead or Alive in "You Spin Me Right Round." The chord progression is A minor, C major, G major, A minor, D major, G major (or in scale degrees: i, III, VII, i, IV, VII). This progression begins like many typical rock progressions: first starting with a minor chord, and ascending to the relative major, eventually landing on the major sub-dominant (IV; in this case D). Above in the chord map preview, we've shown a small section of the full chord map. It shows the correct left-hand finger positions for the triad versions of the chords that occur in the hooks and verses: A minor, C major, G major, D major. The full Chord Progression Map illustrates 12 chord patterns for both left and right hands, including the crafty key change and diminished 7th chord resolution at the end of the bridge. Studying chord progressions, and how those progressions change during the course of a song, is an invaluable exercise if you want to compose and arrange: and if you're a producer, you'd better know how to compose and arrange.
Right Round Synths - Resonant Synth Production
In our full report, we supply detailed instructions on many of Right Round's synth sounds. This particular effect, what we've termed the "resonant zap", is a distinctive 80's-style analog synth effect created by filter resonance. In Right Round, this effect occurs in the middle of the verses and during the bridge: a quick syncopated effect that alternates between the left and right channels. Here's how that sound is accomplished: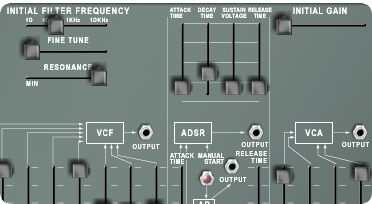 1. Filter Resonance and Filter Envelope
At left is the initial filter frequency and envelope sections of the Way Out Ware TimewARP 2600. Programming synth patches using the Arp 2600 is one of the best ways to learn synth sound design. The GUI at left shows a virtual recreation of the original control surface. By dragging virtual cables from input to output, you can route the synth's modules just like you would route hardware components. Fortunately, the technique we're explaining is much simpler. Here we'll look at how the filter resonance and envelope can create a the zap effect we refer to.
Most synths begin with oscillators which in turn route through filter and modulation sections. Setting your oscillator to produce noise (or something close to noise) is how to begin recreating the type of zap heard in Right Round. But the oscillator isn't as important as the filter. That's because the tonal character of a resonant zap like this one depends mainly on the filter and ADSR settings. If you have a choice of filter type, select bandpass or lowpass. Setting the filter frequency within the range of 300Hz to 1kHz is ideal. The filter resonance should be set reasonably high: above, it's at maximum. Finally, setting all of your synth's ASDR sliders to minimum values while leaving a short decay like in the above illustration will yield a tight filter and amp envelope, modulating the filter and creating the characteristic "tchip."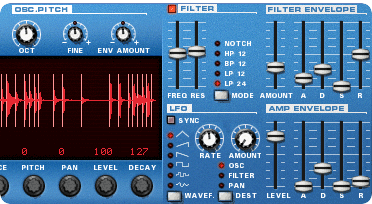 2. Reason Rex Filter Resonance
If your workstation of choice is Reason, many of Reason's instruments contain filter resonance settings. Reason's Dr. Rex player, pictured at left, has a particularly colorful filter resonance. The Dr.Rex player plays "rx" files: wave files cut into sections for the purpose of slice-by-slice processing. If you're using a Rex file like the one at left, with many percussive transients, making a zap is dead easy. In the filter section at left, we've set the filter to a high-resonance lowpass setting. We've softened the attack, and the decay is still short. The result should sound whip-like. This, combined with the ability to swap rhythms, and pan individual slices, makes the Dr. Rex another perfect tool for this job.
Right Round In-Depth - The Full Downloadable Report
Right Round's strengths are its ability to pack the dance floor, and its modernized recreation of 80's-style synth production. The bounce of the beat is fueled by a carefully-arranged, triplet-based dance rhythm that we've explained in careful detail in our full report. In addition to an in-depth focus on synth production, our dissection of Right Round has many a lesson to teach for aspiring music producers. Though critics have coughed up mixed reviews, the dance floor has spoken. DJ Frank E's tantalizing assemblage of diabolical synth sounds and pounding urban rhythms has become an unstoppable juggernaut heard in nightclubs around the world. Below, our full hit report shows exactly how Right Round dominates the dance floor.
Order the full "Right Round" Hit Report & Get it all…

Right Round Song Format Map! (View All)
Right Round Frequency Separation Map! (View All)
Right Round Song Arrangement Map! (View All)
Right Round Melody Map! (View All)
Right Round Chord Progression Map! (View All)
Right Round Track Detail Map! (View All)
Right Round Song Arrangement Step-by-Step Report!
Right Round Vocal Production Step-by-Step Report!
Right Round Transient Synth Step-by-Step Report!
Right Round Bass Production Report!
Right Round Claps Production Step-by-Step Report!
Right Round Music Production with Propellerhead Reason!
Right Round Music Production with Sony Acid!
Right Round Keyboard Technique Reports!
Right Round Production with Rob Papen Subboombass!
Super Bonus: VIPKIT#22, 105 Samples, $30 value!
Instant Download $14.95
Enhance Your Music Production Skills Today!