Nuthin But a G Thang - Mix & Production
Hip-hop's G-Funk: the musical brainchild of Dr. Dre and Snoop Dogg. Its roots have spread throughout rap and hip-hop, changing the landscape of modern music permanently. Dre's most legendary release, The Chronic, is the quintessential G-Funk album. Because of this benchmark contribution to modern music, and because of relentless chart domination since The Chronic, Dre will forever be an icon. What most distinguishes Dre is not his compositional wizardry or studio ingenuity, but rather his status as a fastidious maestro, paying painstaking care in his musical direction. Dre is an overseer: he unites talented artists and, with uncompromising perfectionism, he transforms their collective potential into music that makes history. Along with song's like "Let Me Ride," "Nuthin But a G Thang" is one of the finest examples of G-Funk there is. Enjoy this free online preview. Hit Talk's full downloadable G Thang Hit Report reveals the production details of Dre's famous hit song, plus teaches you the essence of one of Rap's most influential sub-genres.
| | |
| --- | --- |
| | |

Nuthin But a G Thang - Melody Map Preview
Dre backs every song with an inventive rock-solid bassline. Part of the essence of Funk, and hence G-Funk as well, is the presence of a funky bassline. This is a good reason for Dr Dre to choose "I wanta do Something Freaky to You," by Leon Haywood as the sample on which G Thang is based. If you're not a bass player, playing this bassline on the keys is quite easy. Above, in red, are the keyboard finger positions for the bassline melody played on the left hand. It's a straightforward pattern: when playing the four 16th notes that rise from Eb to F#, try sliding off the Eb key onto E with the 4th finger. What makes this bassline so perfect is its staccato nature. By using short runs of 16th notes, Leon Haywood was able to get away with using less notes. Many amateur producers, and even some noteworthy pros sync the bassline up with the kick, or used sustained bass notes. The G Thang bassline is more original and articulate, leaving quarter note spaces between each run of 16th notes for an extremely dynamic and uncluttered bass performance. In our full Hit Report, below, we analyze some of the song's synth melodies in addition to the bassline, and show how all the melodies fit together during the transitions between the song's verses and hooks.
Nuthin But a G Thang - Filters and Wah Techniques
In our full report, we've commented on several of the original tracks in Haywood's song, as well as many of the production elements added by Dre. Another part of what makes the Leon Haywood sample well-suited to the G-Funk genre is its laid-back groove. For this purpose, the guitar tracks in Leon Haywood's original track are perfect, setting the mood just right with a soft attack and wah pedal sweeps. A wah pedal is basically a foot-controlled modulated highpass filter. Hence it's quite easy to reproduce that effect using any DAW that incorporates a parametric equalizer or resonant filters. Here we'll show you in 3 steps.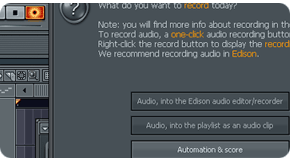 Step 1 – Arm to Record
Using FL Studio's parametric EQ as our example, start by arming the sequencer to record. FL Studio has a recording filter which lets you choose whether you're going to record audio or midi. Since you'll be manually dragging the highpass filter, select the "automation and score option.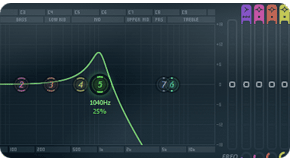 Step 2 – Q and Frequency Settings
To the right is FL Studio's Parametric EQ. We've set the 5th filter to highpass, with a medium Q and gain. starting with the highpass between 1 and 2 kHz, the same kind of wah effect you hear in the Leon Haywood break can be achieved by manually sweeping the filter up to the 5 kHz range, and back down. This is one way to achieve a wah effect, but don't be afraid to experiment with other filters.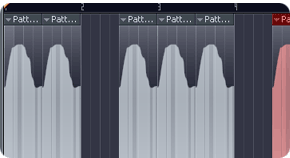 Step 3 – Copy and Paste your Automation
You might want to perform each sweep of the highpass filter manually, or for the sake of consistency you can do what we've done in at right: copy and paste the best sweep. One thing to keep in mind if you edit any automation is smooth transitions. We've sliced a sweep that ends on the same frequency it begins on. Thus, there are no instantaneous jumps in filter frequency.
Nuthin But a G Thang In-Depth - The Full Downloadable Report
So much can be learned from modern Hip Hop classics. Nuthin but a G Thang is hailed as one of Hip Hop's most significant landmarks. In our full downloadable Hit Report, we explain some of the mixing details Dre would have had to take into consideration while creating the song. In addition, we explain the unique production tricks that have made this song into the classic masterpiece that it has become.
Order the "Nuthin But a G Thang" Hit Report & Get it all…

Nuthin But a G Thang Song Format Map! (View All)
Nuthin But a G Thang Frequency Separation Map! (View All)
Nuthin But a G Thang Song Arrangement Map! (View All)
Nuthin But a G Thang Melody Map! (View All)
Nuthin But a G Thang Track Detail Map! (View All) x2!
Nuthin But a G Thang - 11 Tracks of Music Production Analysis!
Nuthin But a G Thang Song Arrangement Step-by-Step Report!
Nuthin But a G Thang Lyrical Flow Report!
Nuthin But a G Thang Wah Effect Step-by-Step Report!
Nuthin But a G Thang Sample Equalization Step-by-Step Report!
Nuthin But a G Thang Creative Sample Phrasing Report!
Nuthin But a G Thang Music Production with FL Studio!
Nuthin But a G Thang Keyboard Technique Reports!
Nuthin But a G Thang Autopan Report!
Super Bonus: VIPKIT#23, 105 Samples, $30 value!
Instant Download $14.95
Enhance Your Music Production Skills Today!