Cali Swag District Interview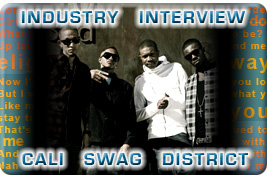 Cali Swag District's first studio recording, "Teach me how to Dougie," went platinum. And after a video shoot with Jermaine Dupri, B.o.B., Bow Wow and Red Cafe, plus a prestigious spot on the Blizzard tour with Nelly slated for the 1st of March it's easy to see what rapid success can do. Not much more than a year ago, Cali Swag District was still an idea in the mind of music industry veteran, Big Wy.
Wy, an ex-Death Row rapper, knew he wanted to create a fresh hip hop band representing the laid back, more positive side of West Coast hip hop. When he witnessed the group's chemistry as an ensemble, he decided that these four - Yung, Smoove, Jayare and M-Bone - were it. They became Cali Swag District and Wy became their manager. With his help, along with PolyRob of Checkmate, and Dairold Potts, Cali Swag District hit the industry like a bolt of lightning. Their debut album, The Kickback drops on the first date of the Blizzard tour, making early March a defining moment for the band's career. Hit Talk spoke to Smoove of Cali Swag District between ESPN interviews and preparations for the upcoming tour.
Hit Talk: Thanks for speaking to Hit Talk, and congratulations on Teach me How to Dougie.
Smoove: 'Preciate it man, thanks.
Hit Talk: How important was Big Wy's guidance in getting organized?
Smoove: Well, Big Wy was the reason we decided to become a group… We all knew him, but we met him at different times.
HT: How did you get linked up with Big Wy in the beginning?
S: Well, Yung has been a rapper since he was like 14, and he was introduced to Big Wy then… Yung met him through his manager as a matter of fact. His manager and Big Wy grew up together, so through Yung we were all introduced to Big Wy. And on top of that, he's from our city and one of his relatives went to our school. So it was kind of like a big family thing, everybody knew each other through people.

Yung brought me in to be his DJ. I brought Jayare in cuz we were doing music together previously, and M-Bone … was with Yung all the time; they used to promote parties together, so we just came together all at the same time and made it happen.
HT: You're all at the age where you could be starting university, and you have a platinum hit. That's a pretty sweet spot to be in. How's it feel to go suddenly platinum so young?
S: It's a great feelin'. It's definitely motivation to keep pushin. It's a good thing because, like I said, before this we were basically just doing nothin'. We were strugglin', and we came up with this hit song and now we platinum and it's a great feelin', plus we get a lot more respect from our families. They're really proud of us, and there's nothing better than making your family proud.

HT: On your website, you say 'we're not dance rappers, we're lyrical artists'. I can appreciate that, I like the line in "Where you Are," about space in your heart, was that your line?
S: Yeah, I said 'and in the back of my mind jump a broom with me, nah wait it's too soon for me. I just want some space in your heart, is there room for me?'
HT: Right, so you're flipping the meaning of the sentence with that last line. That's pretty cool. So, how do new emcees get to a level where they can come up with something reasonably artistic and clever like that?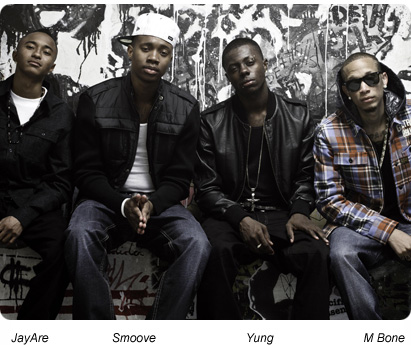 S: Well, since we first started, we've been in the studio countless days. We work on our craft and get better, listenin' to ourselves and… to other artists. We listen to JayZ of course, and all of Young Money: Drake and Lil Wayne, and we listen to people like Wiz Khalifa who come up with these clever lines that'd draw your attention. We listen to stuff like that and just learn from it, and improve our writing, and we've always been writing our own verses. Eventually, if you keep writing your own music, it'll get better and better so that's just what we do, we listen and learn.
| | | | |
| --- | --- | --- | --- |
| | | | |
| ModernBeats Sounds | ModernBeats Loops | Learn to Produce | Submit to TV/Labels |
HT: I want to read a quotation from Billboard.com, this is from an article by Melanie Bertoldi: 'Despite its tired gender attitudes, 'Teach me How to Dougie' has spread through the blogosphere and garnered substantial radioplay" How do you feel about the idea that your song contains tired gender attitudes?
S: Tired gender attitudes…
HT: Yeah.
S: I know what all those words mean, but what is she tryin' to say with that?
HT: I think maybe she means the song expresses an attitude toward women that she's tired of hearing.
S: Okay. Well, [laughs] I don't know… it's just fun, it's all fun. We don't really talk to women like that… I mean we don't even really like to refer to 'em like that either, but it's… it's music. It's something that people can feel and they can have fun with, it's no disrespect to the women, we love women.
HT: The producer of "Teach me How to Dougie," Runway Star, is a woman… speaking of which, are you going to continue working with her?
S: We hope so, but we haven't worked with her since then… We need to get back in contact with her…. We still keep in touch, but we need to keep in touch more.
HT: So, who did the production on Kickback?
S: That was one of our in-house producers goes by the name of Poly Rob.
HT: And what was the creative process behind Kickback?
S: When Polyrob laid the beat, he made the beat in our studio, we were there when he did it. He said 'I wanna let y'all hear a beat.' He played it… We was like "we wit' it.' It was something that we felt, because kickbacks is what we do. He came up with the idea for the song, we just wrote all our verses and all that, and he came up with the hook. We describe in the song how we really throw kickbacks… so we said 'let's do it.'
HT: OK, so going back, you released "Teach Me" in June and July. How long have you been a group for about a year?
S: About year and some, when we recorded "Teach Me How to Dougie," that was like the official stamp on us bein' a group. that was the first song we recorded as a group together, not when it came out but when it was recorded.
HT: So you haven't had to deal with a lot of the struggle up and coming producers who have been struggling for a long time without any payoff. What would you say to artists who are trying to do something similar?

S: It's really who you know, and what you know. I mean you could have the best music in the world and it would never really go anywhere because you can't use the people that you know. I'm not sayin' use them, but get in contact with the people that you know and have them help you. We were lucky enough to have a great team when we first started doin' our music, our team helped us just as much as we helped ourselves. So if people really want to do the music, they're going to have to get a team of people that they trust, of people that they believe in and really make it happen together because it's hard to do it on your own.
I can't say that it's impossible because a lot of people done it by themselves, but it's real hard to do it alone… You know it takes money to make money but, in the beginning we didn't have the most money. We had cameras but not the best cameras, we had equipment but not the best equipment, we had clothes but not the best clothes, but we made it work. It's all a grind…
HT: You guys got to a remix with Jermaine Dupri, B.o.B and Red Cafe…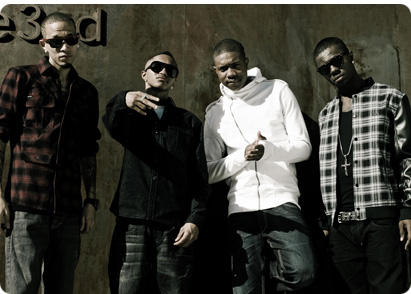 S: Yea, and Bow Wow.
HT: Right, and Bow Wow. So when did you first hear that Jermaine Dupri wanted to get in touch with you guys and do something?
S: Well Jermaine Dupri actually remixed the song on his own before it was official, and put it up on his blog site. We saw on Twitter that he said the song was hot, and then the next day he put the song up on his blog site, so it was a surprise to us at first. It was like 'oh wow Jermaine Dupri just remixed our song and after that, we decided to make his verse a part of the official remix, and then Bow Wow reached out to us, I think our people reached out to B.o.B., and we were label mates with Red Cafe and that was kinda like a family thing too. So, we made it all happen.
It was a good look, they came out to the video, showed a lot of love; bunch of humble dudes you could have fun with.
HT: That's awesome. How did that feel when you guys first found out Jermaine Dupri had done the remix?
S: Oh man, we were excited, we were in St. Louis at the time at our hotel waiting to do a show the next day. We just happened to log on to the internet… we called people, we were super excited, we were runnin' around the hotel. It was fun.
To conclude, Hit Talk asked the rest of the band their advice on starting out as young rappers. Here's some of what they had to say:
CSD: School is really important in order pursue your career at a young age. Reading and writing helps to create verses and expand your vocabulary. Also, study your math so you can keep track of your money. Never let anyone tell you you can't do it. Stay dedicated.
We would like to also thank Louis Burrell, Savalas Holloway and Dairold Potts.
Also, check out CSD on Twitter at caliswagdstrct.