Scoop DeVille - Good over Gangsta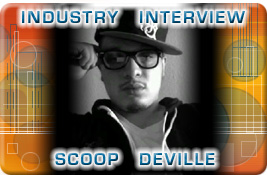 West Coast Hip Hop will probably always have a tough Gangsta streak, but according to Scoop Deville - the producer behind Snoop Dogg's "I Wanna Rock" & Fat Joe's most recent single, "Ha Ha (Slow Down Son)" - Gangsta does not define the genre. Scoop Deville's music and attitude embody a better-tempered West Coast vibe, and while the lyrics Scoop spits for his group Get Busy Committee might carry more of an edge than those of, say, Jurassic 5 or Pharcyde, ultimately he's committed to reppin' the West Coast with a positive image. Scoop Deville has been steeped in Hip Hop his entire life, his credits include Snoop Dogg, The Game, Cory Gunz, Cypress Hill, Xzibit, Baby Bash, Dj Muggz, Crystal Method, and Fat Joe. His intentions are noble, his skills are proven, and as far as anyone can tell, there are no limits to where this producer could take his career. It was Hit Talk's pleasure to speak to scoop in February, just after the release of his single, "Ha Ha" with Fat Joe.
HT: Congratulations on your new release with Fat Joe.
Scoop Deville: Thank you, I appreciate that.
Hit Talk: That's just ten days old right?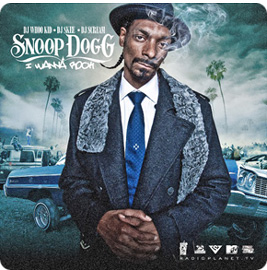 Scoop Deville: Yeah it's not old, man, it's been gettin' a lot of spins. New York is going nuts over it. LA is slowly but surely catching onto it. I heard it on the radio yesterday. Selly played it; I was pretty happy about that.
HT: Are you satisfied with the response?
SD: I'm happy with what it's doin. A lot of people are happy that some real hip hop feel is back on the radio, you know it's a good thing for joe. Cool 'n' Dre and Fat Joe, we were in the studio for four days straight makin' records… It was cool to work with them. Cool also is a real dope dude as far as the keys and programming. They're monsters in the studio. It was all love when we were up there. Everyone was just feelin' each other's music.
HT: So how did you end up going from Snoop to producing for Fat Joe, does word just spread?
| | |
| --- | --- |
| SD: Yeah, I have a record right now with Snoop Dogg called "I Wanna Rock," … and I've been working with Dogg for a minute, and Fat Joe is a fan of Dogg, and they're obviously really good friends, and so Joe remixed the record, and he's like "Yo this record is hard, who did the record?" and sure enough they got to me personally through my managing team.I was really excited because they were like "Yo, man you've got the hottest record right now and we want to work with you in the studio." I kept sending them records, and sure enough they were like "this is the one," and that was it. | |
HT: Even though it's got a hip hop feel, like you said, "Ha Ha" is definitely fresh and unique. Is it your more creative, more unorthodox beats that get you the most recognition?
SD: I do I feel a lot of the people [recognize that.] You know like when people change music… like when Busta drops a record like "Pass The Courvoisier," or "Light Ya Ass on Fire," those are different style records that change time and change someone else's ear to do things differently. I feel like those artists are gravitating toward what I do.
…I was in the studio with Bone Thugs [when] they were working on a record. It never came out, but just being in the studio with them and with Game, and he's rappin over the weirdest beats I have, and they're coming out great, like how I would want them to come out…

HT: Your Father is Kid Frost, hence you grew up around Hip Hop. Is that how you established your connection to the game?
SD: Definitely. it was cool. He always had music equipment available for me. Each year my keyboards would get bigger and bigger. I got to just work on whatever, in the studio with my dad and produce for him and his albums. When I was 16, I did a whole record for him. He pretty much introduced me to the production game, including people. As far as the people too, I got to meet a lot of people. He would tell everyone, My son is the next biggest prroducer out here, you've gotta watch out for him." And I'm like 16 years old, and they said "Oh really? Let's put his shit on, and see what you got." I've played records for so many people.
When I was 15, I had my first record out with one of my father's friends, Baby Bash, it was called "Mamacita" It was a huge record. It had an Isely brothers sample… That was the first record I did that was on a big level.
HT: So do you think production will be your main job in the game?

SD: I think a lot of people are noticing that I'm not just a producer now, but they're seeing that I'm also an artist. When you're a producer you're not just making beats, you're producing the artist; you're making them sound good. If you're a real producer that's what you do… So it's cool. I'm still learning my craft; I'm still trying to advance. Somebody told me "it's not the wand it's the magician." So it's not about having crazy equipment. I've seen people with 100,000 dollar studios and they can't do half of what I can do on a little computer and a couple of keyboards. That's a good way to live if you're in the business you've got to gun for the best, and if you feel you're the best you've got to keep on pushing.
HT: So with your group Get Busy Committee, you're rapping. Could you see yourself emphasizing that more than production?
SD: I am working on a record, I also have a group record out with Get Busy Committee, which I'm really happy about because I get to showcase something else besides hip hop beats. I do all kinds of records, not just that. I'm excited just to see what happens. There's no telling what can happen from here or a month from now.
HT: You're just putting it all out there and seeing what happens.
SD: Definitely, and also it's a statement for people who are doin' their own stuff. 'Cause when I talk to people like Xzibit and Busta Rhymes they embrace that. They say "Man keep on rappin', I didn't know you rapped." They're fans; they're also good guidance.
HT: Kid Frost is pretty much synonymous with Chicano Rap, do you see yourself representing that genre, representing La Raza, as it were?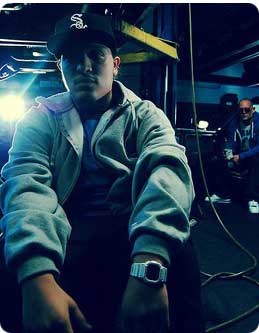 SD: Yeah. I feel, though, my work is a little different, because growing up around Hip Hop, [I notice] there's a movement of Latino kids … who are rockin' Nikes, and they've got the cool dress shirts, and … they're not lookin' more so like gangstas. Nobody really wants to hear gangsta stuff anymore; everything is more friendly. We're trying to have fun and send a positive message. I think "I Wanna Rock" was a great way to show that we have something different to offer than … what everybody thinks West Coast records are [normally] about.
I wanna talk more on that. There's a lot of young kids that don't wanna gang bang, that don't have bald heads, that don't have any of that in their systems, you know. It's more universal, I don't get love from just Latin kids, I get love from Black kids and Asian kids and White kids. It's cool to actually just be young and a role model for these people.
HT: Do you think you'll manage to avoid that Chicano gangtsa vibe altogether?
SD: Definitely. I think I've already showed out enough to where there's a big gap between me and that realm. [The only people to] do Chicano Rap ever that big were … my father and Cypress Hill, and these people I still work with. I still have love for that market, that's not gonna change, it's a huge market, but Latinos buy everything, support everybody.


Let's say I become like I don't know like a big rapper or whatever. And everything's' positive. everything's showin nice, nothing's gang-related and it's top quality. As long as the image is right, it's gonna look good and people are gonna respect it. And when I was talkin' to Joe, he told me the next rapper is going to be a Mexican rapper. It's the fastest growing race… Definitely I can avoid the gangsta vibe. There's more to it than just promoting bad things and people gettin' killed. No one's doing that no more that's like - 90's.
HT: When your father came out with his hit, and you said everything changed, is that all it takes is one hit?
| | |
| --- | --- |
| SD: That's what everyone says. Everyone says it just takes one. That's a gift and a curse too because you know I feel if you've got one you can't let it just be one, you've got to turn that one into two, that two into four, that four into six, and then keep going and risin' and makin' records. That's how I do it.  I just gotta keep on workin', stay in the studio and at the end of the day  I can just chill, and I can say I got ten records on the radio right now.  I got to see people do that growing up. Look at Pharrell. Pharrell at one time had ten songs on the Billboard top 100 at one time. That's amazing. | |
And now it's different. Everything's viral now, and internet is changing the game… If you're really serious about what you're doing, just keep it keep persisting keep making records… I'm tryin' to figure out how I can make money in my sleep. Why not?
| | | | |
| --- | --- | --- | --- |
| | | | |
| ModernBeats Sounds | ModernBeats Loops | Learn to Produce | Submit to TV/Labels |