Blame It - Learn Drums, Vocals, Music
Christopher "Deep" Henderson is a newly-risen star within the league of hit music producers. Henderson earned the nickname "Deep" for his thoughtful lyricism, but the music production on "Blame It," Jamie Foxx's latest Juggernaut hit, shows clearly Deep's musical insight and wisdom extending far beyond his lyrical talents. The complex chord progressions and soulful melodic bends throughout Blame It, combined with its elegant evolution of every track, show not only Deep's stellar compositional skill, but a tireless work ethic plus an obsession to detail verging on the pathological. Once Hit Talk had a chance to carefully analyze the impressive production gracing Blame It, we understood how this relatively unknown music producer was suddenly catapulted into an all-star lineup of hit makers including Just Blaze, Timbaland, Tricky, and others on Foxx's album, Intuition. Since this is our most indepth Hit Report yet, complete with audio, multiple step-by-step instructions, and more detailed illustrations than ever before, we're giving away an extended online preview. If you dig the preview, you'll absolutely love the full Hit Report - This is one you don't wanna miss!
| | |
| --- | --- |
| | |

Track Detail Preview: Blame It's Introduction
Where we've kicked off so many reports with our Frequency Separation Map, this time we provide a sneak preview of the Blame It Track Detail Map. The Track Detail Map is Hit Talk's most knowledge-packed product, containing a wealth of production information with the convenience of seeing all production elements track-by-track, in relation to one another. Shown above right are the first 2 1/2 bars of Blame It's introduction with three tracks in illustration. First, the tom/snare track illustrates pitch in yellow, flagging tom and snare hits in red and blue. Respectively, the snare hits occur later in the song, and hence aren't shown here. Second, the fx track plots the delay, pitch and pan of the chime effect that occurs at the very beginning of the song. And third, the syn track plots the formant and pitch of the song's bending square synth.
First impressions are crucial and, naturally, a great introduction of a song should swiftly communicate: "This is a hit!" This is exactly what happens in the introduction of Blame It. Here lies an extremely important lesson for aspiring producers. A weak song introduction is the quickest way to get your beats thrown out by someone who might be able to pay you for them. If the introduction is careless or overly repetitive, no one will listen past 15 seconds. That's why the beginning bars of the first song on your website or CD must contain the catchiest, most alluring, most painstakingly-produced introduction you're capable of creating. There are close to 20 tracks sculpting Blame It's grabbing 8-bar introduction. We cover the most prominent of these introduction tracks in the complete Track Detail Map provided in the full Hit Report, allowing for indepth study of Blame It's production secrets. Now, let's get into those details provided in this extended preview. First, on the tom/snare track (tm/sn), you can see that the tuned toms (flagged in red) begin on the 4th 16th note of bar 1. All the toms are tuned with precision, forming their own evolving percussive melody. The toms are tuned just sharp of G and C, with occasional variations in the rhythm and melody as the beat evolves. The percussion's precise tuning compliments perfectly the auto-tuned lead and backup vocals. With this wise choice in production, Deep demonstrates the importance of establishing consistent themes throughout the song's evolution.
Let's discuss how to replicate the 3 tracks we've illustrated above
On the very first beat of Blame It, you hear the panning effect we've labeled "chime" in the fx channel of the Track Detail Map preview, above. To produce an effect like the Blame It chime, you can start with a recording of a struck bell or wine glass. Dropping the pitch of the sampled recording by a 5th or more will draw out the shimmering, metallic overtones you hear in Blame It's version. Many bells or chimes have a short sustain, lasting only a second or two, and this chime is far longer. Most samplers, such as Reason's NNXT, or the E-Mu Emulator-X2 allow you to loop and extend the bell's sustain quite easily. In this fashion, you can achieve an extended, tailored release similar to what you hear in Blame It. As we've illustrated above, the sample is processed with pitch and pan modulations, panning left first, then right using an autopan to carve out a slow sine-wave curve. The blue graphic drawn over the chime's waveform shows an 8th note delay reflection (the 2nd vertical blue line), a low delay feedback setting (the curved tail), and then shows the delay lasting the duration of the chime's playback. The pitch curve is also slightly convex, letting the chime sustain for a few 16th notes at its starting pitch, before dropping slowly. The chime performs the same function as a crash cymbal throughout the rest of the song, faithfully marking the beginning of each new section. This creative production embellishment is paramount to capturing a listener's attention. In the introduction, the chime sets the mood and is then joined with stirring strings and synths, forming a memorable introduction. We reveal how the complete 8 bars of the introduction are assembled in our full Hit Report, available for purchase below. For now, let's take a close look at how the square synth can be reproduced.

Looking at the square synth in the Track Detail Map preview, you'll see we've plotted an increase in formant. An efficient two-oscillator synth like Reason's Malstrom will do this job perfectly. In the above graphic, we've set the oscillators to a combination of sine and square. We've routed both oscillators through the "Filter B" section which processes them with a comb filter. We've set the comb filter resonance to 20, and the frequency to 100. The comb filter perfects this sound by adding a gentle treble edge to the sine/square timbre. Finally, in the mod section, we've set the "shift" mod rate to 25. Shift is the Malstrom's formant control. Having made this adjustment, we can now control the formant using the mod wheel. Nudging the Malstrom's shift up using the mod wheel puts the finishing touch on an unmistakable reproduction of Blame It's square synth.
Vocal Production Preview
Deep's vocal production in Blame It is dizzyingly complex. While Deep uses multiple tracks to create harmonies, as well as backup vocal responses to the lead vocal track, we're going to focus on his use of Antares Auto-tune. Auto-tune is the dramatic pitch correction effect used by dozens of performers in the genres of Hip Hop, RnB, and even Rap. It's a controversial effect; Cher gave it a bad name. But, while over-doing Auto-tune can make a vocal line sound artificial and cliché, judicious use of Auto-tune can perfectly convey the soulfullness of R&B. Likewise, Auto-tune works perfectly with Blame It. The song boasts a clean, finely tuned production, and Deep uses conspicuous, yet tasteful Auto-tune settings over the voices of Foxx and T-Pain. The result is a subtle robotic vibe that jives perfectly with the pitch-bending synth accompaniment, and the precisely-tuned percussive elements.
While you can use most VST host software successfully with Auto-tune, we've chosen Mackie Tracktion to illustrate our steps because it allows the producer to control Auto-tune via midi - a function not all hosts are capable of. Since Tracktion is not a standardized VST host software, combining Tracktion and Auto-tune is tricky business, but we'll explain the pitfalls and fixes. On the whole, since it can trigger Auto-tune via midi, using Tracktion with Auto-tune has distinct advantages. In our full Hit Report below, we include step-by-step audio examples and an expanded 6-step discussion of Blame It's vocal production.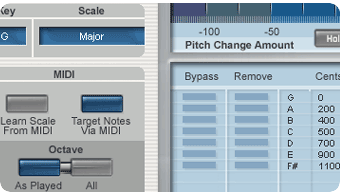 Step 1 – Set Auto-tune's Input and Scale
After you've loaded Auto-tune on your vocal channel (which, in Tracktion, means right-clicking the filter box to the right of the desired track and selecting "replace filter", then selecting Auto-tune), make sure the input voice at the top/right of Auto-tune is set to male/tenor. Next, pick a key and scale. At left, we've picked G major, which might sound like an odd choice since Blame It is founded on a B, C chord progression. The reason for picking G major is because it contains all the notes of the lead vocal melody, and nothing in between. Thus, Auto-tune will make its adjustments without any wrong notes.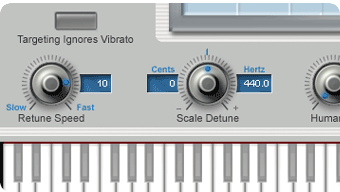 Step 2 – Set Auto-tune's Retune Speed
The retune speed is an important setting that determines how dramatic the effect of Auto-tune will be. Retune sets the number of milliseconds it takes to tune automatically from one note of the scale to the next. Hence, dramatic effects come from fast settings. Blame It uses a relatively fast retune speed between 20 and 10ms. At slower speeds, the characteristic robotic sound of Auto-tune becomes less discreet and less noticeable. The settings we just explained create pitch modulations as heard in Blame It's verses.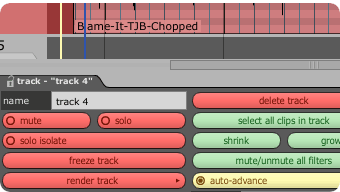 Step 3 - Render Before Final Mixdown
A hazard of combining Tracktion and Autotune, is Tracktion's inability to export an auto-tuned track during the final mixdown. To work around this, you'll have to use the red "render track" button shown at left, creating a bounce of your auto-tuned vocals. Although inconvenient, as long as you create multiple versions of your project, saving them before you make any irreversible changes, you have nothing to worry about. And, of course, it's wise practice to save frequently, so make a habit of it. Since a lead vocal is always up front in the mix, Deep's dramatic chop-and-retune is a bold move, but fans, charts and critics will all attest to its unequivocal success.
There's a lot more tricks and techniques revealed in our Blame It Hit Report!
From start to finish, Blame It is flawlessly produced: it's full of innovative technique, its instrumentation contains a multifaceted array of addictive rhythmic and melodic symmetries, plus its song arrangement boasts a painstakingly detailed build and evolution. Now, with a Hype Williams video that includes cameos from Jake Gyllenhaal, Forest Whitaker, Ron Howard, and Samuel L. Jackson, this stellar producer is sure to command the respect he truly deserves. Will he ever be as renowned as Timbaland? We're not sure. But we are sure of this: Christopher "Deep" Henderson really… is… deep.
Order the full "Blame It" Hit Report & Get it all…

Blame It Song Format Map! (View All)
Blame It Frequency Separation Map! (View All)
Blame It Song Arrangement Map! (View All)
Blame It Groove Analysis Map! (View All)
Blame It Chord Progression Map! (View All)
Blame It Track Detail Map! (View All)
Blame It Song Arrangement Step-by-Step Report!
Blame It Vocal Production Step-by-Step Report!
Blame It Song Introduction Production Report!
Blame It Mix & Frequency Separation Report!
Blame It Glide Synth Step-by-Step Report!
Blame It Music Production Reports!
Blame It Hook Production Reports!
Blame It Effects Reports!
Blame It Synth Report!
Super Bonus: VIPKIT#21, 153 Samples, $30 value!
Instant Download $14.95
Enhance Your Music Production Skills Today!