Welcome to the Sugastore
Producer Name: Shanel Cuthbert
Producer Beats: W.A.M.D., Jus Laugh
Location: London, UK
Versatility, adaptability, perseverance, and … meditation? For Sugastore's Shanel Cuthbert, a diverse music producer hailing from London, England, these virtues have formed the mainstay of a promising music producer career. With awards from both Billboard and FutureMusic magazine, experience in multiple studios, plus recording time with grammy-nominated musicians, Shanel Cuthbert's creditibility is indisputable. Hit Talk caught up with Cuthbert at her home in London, to talk with this fast-rising star about her career - from the London School of Music to recording MCs in New York, and, in general, about how to make it as a music producer in an increasingly over-populated music industry.
An Early Start
Beginning at around age 7, Cuthbert started experimenting with sound using her father's old Amstrad CPC464, a rudimentary PC like the Commodore 64 that became popular in Europe in the mid-1980s. Using her father's books and magazines as references, Cuthbert used basic programming to access the computer's AY-3-8910 sound chip: "I would make all kinds of weird noises with the computer, I tried to get it to laugh and mimic speech…"
Later, Cuthbert would record songs from the radio onto mix tapes that she gave to her friends at school "… That progressed into me buying my first turntables at 14, and getting into DJ'ing … I always wanted to take it further and wasn't satisfied with only mixing music, I wanted to make the music." Eventually, Cuthbert began to fulfill that desire when - after high school, and a formal education in graphics and creative advertising - she enrolled in the London School of Music to study sound production and sound engineering.
Book Smarts to Street Smarts

Though her formal education in music production and theory provided her with much-needed credibility and skill, the London scene proved initially unreceptive, so Cuthbert followed her heart to the bustling music scene of NYC. At first, New York was daunting: "I didn't know a single person in NY, and got over there only to find myself wandering around Times Square wondering what the hell I was doing!"

To any London girl, New York is sure to be intimidating, but initiative overtook fear, and soon, Cuthbert would land her first legitimate music producer job at a South Bronx-based recording studio called SubFunk. To get there, Cuthbert says, "I basically contacted any and every studio I could find in NY. I told them I was a producer from London, and [asked] if I could use their studio for time (to record my own projects in NY), and in return I would work for them, doing whatever - eg/making tea, studio bookings, etc… Luckily though, I got to run sessions and sit in the hot seat, but that was after a [we developed] mutual respect and trust."
With her job at Subfunk, Cuthbert had jumped straight into the deep-end of music recording. "It was intense … I didn't realize it at the time, but I was a bit out of my depth." Cuthbert quickly proved herself and began running the booth, catching Bronx MC's completely off-guard. "It was funny to see their faces when they'd walk into the studio and see me, this girl, sitting at the desk telling them in my strange London accent, that they'd paid their money to have me run and record the session!" After Subfunk, Cuthbert got gigs with the Midtown Manhattan studio Spin, and another studio called Mercy Sounds in the East Village. Cuthbert now commutes to NY from London about twice a year, enjoying work in multiple studios.
Fortifying a Music Business Career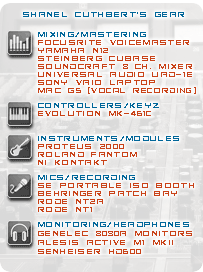 If you've got real producer talent, one gig is all it takes. From a single music producer job, Cuthbert was able to propel her career ever-higher by sustaining her intense work ethic, and by networking with other producers while in the studio. "You get introduced, you start talking, and then it's like 'hey, do you want to jump on this track I've got?'" Meetings like those have lead Cuthbert to many new collaborations, and have been essential in working her way up the music industry ladder.
Also, Cuthbert's non-musical skills have proved paramount to her assertive presence in a dauntingly competitive market. Flexibility as a visual artist and web/video designer has made it easy for Cuthbert to market her own music on her own terms. She also works hard at business, maintaining a careful balance between self-management and creativity. "Ultimately, I think it's best to work in a team, or have someone doing the business side of things for you. But saying that, if you are a lone soldier, then structure your time accordingly," says Cuthbert, referring to that careful balance. She stresses marketing yourself, while backing up that marketing with solid music production. So, as an independent music producer, wisely balancing your schedule between producing music and conducting business is fundamentally important.
Advice for Music Producers and Songwriters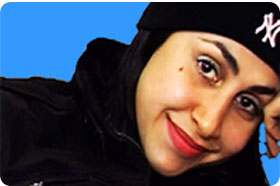 Finally, Hit Talk wanted to know what final advice Cuthbert might give up'n'coming producers and songwriters looking to establish themselves in the music industry.
"Firstly - Make sure you are doing what you are doing because you naturally enjoy it, not because it's a fashion statement, otherwise it will be waste of your time and you'll end up … wondering why you ever bothered. Your happiness is the most important thing you have, cherish it and don't kid yourself."
"Secondly - If you want to really make a profession out of it (e.g., money), as opposed to a hobby, realize that you're going to have to think outside the box, you're going to have to think in terms of business as well as creativity and it's probable that you're going to be putting a lot of hours in without any financial comeback (unless you're really smart)."
"Thirdly – know yourself in relationship to the universe, read lots of books, educate yourself… " Cuthbert reads on science, cosmology, and philosophy, and meditates daily, a regimen she places at the center of her success. If you're skeptical about whether any of that has anything to do with being a music producer, consider Cuthbert's multiple awards from Billboard and FutureMusic, including placement in the top 500 of Billboard's World Songwriting Contest for "Jus Laugh." Her musical prowess and visual design savvy speak for themselves, and her career as a music producer is more than well-established. However you look at it, Shanel Cuthbert's career holds lessons for all aspiring music producers looking for a music industry career. You can see and hear more of Shanel Cuthbert's work by looking up her music production services - and do prepare to be impressed.