Watchlist Artist Kirsten Price
Kirsten Price, soulful songstress and recent British invader to NYC, imports a musical style fused at the intersection of soul, folk, rock, and contemporary pop. While most of her music is a refreshing break from the pravailing style dominating the charts, songs like "Broken," a very tidy bit of soul, radiate genuine high charting potential. So much so that it's hard to imagine why Price isn't signed to a big label like Interscope or Capitol.
But maybe that's because she prefers independence. While Price's vocal talent has landed her in the studio with some of the most skilled producers in the biz, her own curiosity for music production and audio recording has given her obvious pro-level skill as a producer. And while a Wayne Wilkins or Dr. Luke may wield more influence as the producer of a song like "Broken," would either have done it any differently?
Price's story is instructive for any up-and-coming artist, producer, songwriter, or singer. In an age where all the tools of musical creation are so easily accessible, musicians who pull their own weight in the studio have a huge advantage over artists who are content to hone a single instrument or skill. It was Hit Talk's distinct honor to have Kirsten Price capping off 2010 for the Watchlist.
Training & Education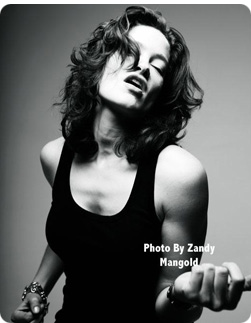 I grew up in London England. When I got to NYC and started working as a session singer I used every chance I got in every recording studio I was ever in I would just oggle gear. I had a childlike limitless curiosity about studio hardware and software. I was seduced by every microphone, every plug in, every new toy that I encountered and I still am to this day. I was even fascinated by cables, what they were made of, how they worked.
This obsession with gear led to an accumulation of gear. I would always harass engineers to show me things. Working on my own material with producers I was always more interested in learning how sounds were created, defined and refined than anything else. So I was a producer in training disguised as a singer. The singing part was so effortless for me, but production was like a magic world full of wild tricks and sorcery that just blew my mind.
Jingle houses were a great place to learn the ropes because every producer I worked with had to be well versed in every genre, constantly changing up their tracks to the specifications of ad agencies. They had an arsenal of talent and a glut of gear. Often my incessant questions resulted in hands on training that I would go home and spend all night applying in my own project studio. So I would like to say that I was self taught but really I was in training for 10 years with the best of the best.
Eventually as a songwriter it just became more practical for me to produce my own tracks. It was faster, easier and I achieved consistently better results.
Influences
Growing up I always had to sing different parts depending on who showed up to choir that day so more often than not I ended up learning all the parts. This was great early training for intensive active listening. I trained classically on the piano but the music that always got me in the gut was the Motown/stax period in the USA. Whatever was on radio airwaves in 80's London was just absorbed by accident.
Creative Process

I always start with drums and I always finish with vocals. I try to keep it as simple as humanly possible. Especially in pop, simplicity is the key. In my experience the sole purpose of every single element of a track is to compliment the groove and the top line so it's all about drums and vocals for me. Often I will do several versions of a track before it "pops" the way I know it should. There is a lot of experimentation, trial and error. The analogy I would use is picking a lock. You just jiggle and wiggle until the song unlocks. Some tracks are instant, some take forever, but I always know when the door unlocks. A lot of what I do is based on intuition and experience rather than practical knowledge. Learning to trust my instincts is the single most powerful lesson I have learned and I think it is more important than anything else when it comes to production. Like they say, it's not what you've got, it's the way that you use it.
Production Setup
My basic set up is to route Reason through Pro Tools using reason for midi and pro tools for the heavy lifting.
Drums: For the more urban tracks I often use an old MPC drum machine to trigger Reason. The internal Reason sequencing never comes close enough to nailing that MPC swing. For the tracks that lean more towards rock I use Toontracks Superior Drummer. There is usually a lot of crossover between live playing and samples.
Bass: Strangely enough I use an old line 6 guitar pod for live bass which works better than all kinds of signal chains I have tried, including the line 6 bass pod. I am a big fan of selectively layering individual parts. With midi instruments the kick, snare, strings and sometimes bass are often layered with 2 or 3 different samples playing duplicate parts. Then each they are individually tweaked to achieve the right texture when they sit together.

The Mix: I mix as I go. The waves mercury bundle has all of my go to plug ins. Mixing as you go is a little bit like cleaning as you cook. At the end there is a lot less mess to get through. I never send a track out to be mixed unless I am happy with my own mix. That being said, I always follow the golden rule of never doing a final mix on a track I produced.
Vocals: I find that the mic I use is marginally less important than the daisy chaining of multiple compressors and EQ's to carve out the sweet spot in an individuals voice. As someone that started out my career as a singer I am obsessed with unique vocal tone. For me the character of a voice is everything. I am always on the look out for weird and wonderful voices.
Advice for New Producers
As far as Tips go, the most important piece of advice anyone ever gave me was to take "ear breaks" to keep things fresh. This is very hard to do when you are caught up in your work but absolutely essential for maintaining objectivity.
Find out more at www.kirstenprice.com