Watchlist Artist: Eugene Shakhov
The Rap and Hip Hop music production market is what you might call saturated. Nevertheless, creativity and ingenuity is what drives this market, and a good producer needs only one stroke of genius on the right song, with the right artist, to suddenly rise to success. Perhaps that much can be expected of L.A. music producer Eugene Shakhov. Shakhov's smooth handiwork on songs like "Out of Count" by Taylor Faust clearly show the makings of a hit producer.
Location
Currently, Shakhov produces Hip-Hop, R&B, and pop music in Los Angeles, CA. He produces several promising artists with his own production company, Eugene Shakhov Productions, (www.eugeneshakhov.com). Collaborations Shakhov is most proud of include Genius, The Trade, Smooth Walking Androids, Chill EB, Taylor Faust, and many others.
An Early Start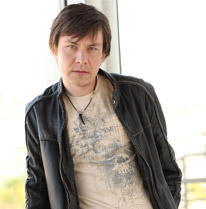 Originally from Russia, Shakhov became a musician at the age of six when he learned how to play the button-accordion "it's more hardcore than you think," says Shahkov.
He entered music school at age seven, and music college at just 16 where he discovered his passion for orchestration & scoring. Then it was on to Saint Petersburg State Conservatory (the Russian equivalent of Julliard) at age 19, where he immersed himself in nothing but scoring for numerous ensembles and orchestras for four straight years. Though Shakhov won numerous awards for his scoring, and was praised as one of the brightest musicians/orchestrators at the school, he still felt like something was missing.
Influences
Lured by the prospect of becoming a successful music producer, and having accumulated a sizable raft of musical credentials, Shakhov moved to LA to produce the kind of music he enjoyed most. His first and most important influence is Michael Jackson. Jackson's music impressed him even during childhood. "Michael was making this world a better place simply by projecting his inspiring and uplifting messages and by having the top, top, top quality productions." That greatly affected Shakhov's opinion of how music should be presented to listeners. The energy and quality of Jackson's music remains one of Shakhov's guideposts.
Another prominent influence that came later was Earth, Wind, and Fire. "Their brass, strings and song arrangements as well as their performance quality particularly struck me and made him aware of many other aspects of proper song productions." Shakhov said.
Naturally, Shakhov is influenced by classical music "Peter Tchaikovsky is one of mygreatest classical influences, along with Benjamin Britten and N.A. Rimsky-Korsakov."
Dr. Dre's 2001 album was a great inspiration to Shakhov; the singular reason he fell in love with hip-hop. "To this day, I still refer to that album and its quality of production as a turning point in my career."
Finally, Shakhov is grateful to be influenced by each and every artist he meets along his journey. "Their visions inspire me in many ways, always teach me something new and urging me to continue on my mission of producing music."

Musical Strengths:
According to Shakhov, his strength as a producer comes from striving to understand an artist's concept for a particular track. A producer's job is understand the artist's intention and deliver production that reinforces that intention. "It is also extremely important to me that I never make an artist feel that their music or ideas are "wrong." It's all about how to create a song that is "right!" I'm absolutely certain that 'artists are the ones who create future' with their work, and I'm here to help them succeed."
He also places a high emphasis on vocal production. A song "… can be delivered in many ways, but there is usually just the right way for a particular song to work perfectly." Like all conscientious professional producers, Shakhov might put in several days of work on vocals alone to get the best take.
He is proudly versatile. His focus is hip hop, R&B and pop music, but he has produced punk, country, & jive, he has written music for documentaries, audio books, commercials, and he can even score a symphony for a 100-piece orchestra.
Video:
One of Eugene Shakhov's latest music production projects is The Trade's "Alien Love."
To find out more about Eugene Shakhov you can visit: www.EugeneShakhov.com