Rucker's Brave New Ruckus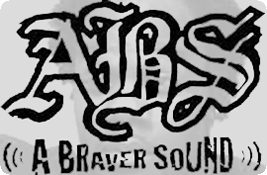 Producer Name: Shameen Rucker
Producer Beats: Preview 1, Preview 2
Location: Albany, NY
Co-founder of A Braver Sound (ABS), Shameen Rucker is a Bronx native living in Albany whose production skills rival the best up-n-coming producers. His musicality and intuitive grasp of groove and beat-making form the foundation of a promising future, and landed him a well deserved spot in Hit Talk's very first Industry Interview. Hit Talk first learned of Rucker through his placement in the ModernBeats $2000 beat contest. In our phone interview with Shameen in Albany, Hit Talk learned about his approach to music production and beat-making.
Beginnings

Rucker began studying piano at 5 years old. He quickly developed a love for Jazz, R&B and Rap. He began to compose original keyboard arrangements, and eventually caught the attention of The Casual Fiasco, landing him his first gig as a touring musician while he was still in college. Rucker recalls touring with The Casual Fiasco partly as paying dues, since their happy-go-lucky Ska/Jam band style took Rucker so far away from his roots. "The only time I was able to play my music was when the lead guitar[ist] popped a string; I loved these moments." It was one of those moments that reconnected Rucker with the music he loved. While playing The Jellybean, a college pub in Geneva, NY, The Casual Fiasco's bassist and drummer jammed one of Rucker's originals during part of the first set, while the guitarist replaced a popped string and re-tuned his guitar. The sudden change of mood that came with Rucker's grooves held a hitherto impassive audience spellbound.
During the break between the first and second set, Travis McCoy of The Gym Class Heroes approached Rucker and asked him to join them in the studio. Rucker declined, but asked McCoy to open the second set with them. The Casual Fiasco's singer and guitarist refused, but bent under pressure from the rest of the band, and the second set opened with sweet, crowd pleasin' Hip Hop. "We get Travis up on stage, he greets his people, they loved him. We broke into a classic Snoop Dogg instrumental off the Doggystyle album, "G's & Hustlers," for him to freestyle to - the crowd goes crazy…" That moment marked a turning point that steered Rucker back toward his roots, and ultimately toward producing the sizzlin' grooves that grace his repertoire.
Music Production Philosophy and Approach
Rucker's approach to music production is based on the advice that friend and ABS co-founder, Monyette Clark, gave him when Rucker decided he wanted to produce music: "Create the sound you want to hear." That is, whatever style, whatever beats, whatever chords sound good to you, make 'em. Clark taught Rucker how to use Cool Edit Pro and FL Studio. Soon Rucker purchased Cubase SE, Reason 3.0, and SampleTank XL, plus a sizable stockpile of refills, providing himself with a diverse array of production choices.
Keeping his eye on established professionals has given Rucker a consistent reference for rock-solid, successful production." The more I learn about production and beat making, the more I love the sound of Timbaland, Danger Take, Danger Mouse, The Neptunes, Just Blaze, and Kanye West. They keep me motivated …" Rucker said. That motivation has produced several notable beats and songs, many of which can be heard on the ABS myspace page and on Rucker's own myspace page.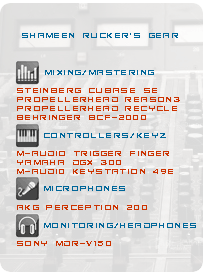 Rucker's beat "So Pop Off" is an ingenious remix of Bob James's classic, and widely-sampled, intro to "Take Me to the Mardi Gras": the same breakbeat used in Run-DMC's "Peter Piper," Missy Elliott's "Work It," the Beastie Boys's "Hold it Now, Hit it," among many others. Shameen has sliced up and rearranged the classic bell line, using the C#/F# pitches of the bells as the basis for a melody, piecing together a horn accompaniment in F# minor and overlaying the whole arrangement with Bob James' original bumpin' break. "So Pop Off," "Did I Leave your Mind," as well as the rest of ABS's diverse playlist represent a versatility rare among unestablished producers. There are no pending recording deals yet, but if skill alone can indicate prospective success, Shameen Rucker, Monyette Clark, and Carlos Munoz of A Braver Sound are sure to be reppin' Albany with premium beats for a long time to come.