Recording Acoustic Guitar 01
Understanding how and how not to record acoustic guitar is critical knowledge for a producer in any field of music. First let us say that an acoustic guitar almost always sounds better through a microphone, but noise, and other culprits can often force a producer to plug directly into a hi-z input. Thus, Hit Talk's first guitar recording tip deals with plugging the guitar directly into your interface or mixer. This tip applies to guitars that are equipped with a pickup. There are essentially three ways to connect a guitar directly to your interface, multitrack or mixer.
Using a Patch Cable:
Often musicians attempt to record by connecting their guitar pickup directly to an input via a 1/4″ patch cable. (Though some guitars, like Taylor, use a balanced XLR instead of 1/4″.) If the pickup is passive - that is, if it does not use a battery - the signal gain will be too low to extract an adequate signal. An active pickup - one that uses a battery - is the solution to this. Too many guitarists mistakenly assume that an active pickup

means they can record directly into an input, but their overlooking vital piece of knowledge: even good active pickups transmit harsh high frequencies into the guitar signal. That's because the purpose of an active pickup isn't inputting directly into a mixer, their purpose is inputting into a guitar amplifier. The harsh high frequencies disappear when they come out of the amplifier speaker. So even good active pickups will sound often electronic and unnatural. So what's the solution?
Using a DI Box:
DI boxes are simply a tool to convert a high impedance (hi-z) signal from a guitar, to a low impedance (low-z) signal, so you can plug the guitar into a microphone input. DI boxes typically contain a hi-z input and a low-z output, and a transformer in between. A plain DI box is prone to the same harsh high-frequency edge as a direct connection to an active pickup is, so it's important to consider boxes that are designed specifically for acoustic guitar, like the LR Baggs Para DI(street price: $135). A solid acousic DI will definitely sound better than a standard DI, or a direct connection to an active pickup, but for the sake of recording, fishman has devised a third option.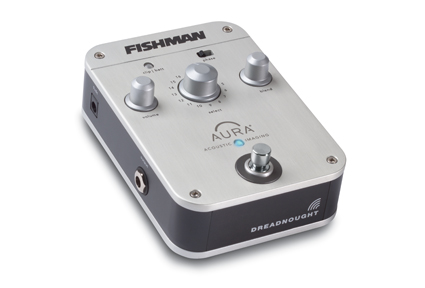 Fishman's Aura Imaging System:
The Fishman Aura (street: $200) is a new class of signal processor that takes the signal from a passive pickup and makes it sound like an acoustic guitar through a microphone in a pro studio. In noisy surroundings, like those in most home studios, this fantastic gizmo saves much producer heartache - zero noise, perfect recording quality.