Hit Talk Watchlist Artist: VJ OZ
VJ Oz is a musician, music producer and video producer from Columbus, Ohio. Oz's impressive mastery of video and music production is the result of studio experience in memphis, and an appreciation for the best talent from all musical styles. Visit VJ Oz's site here.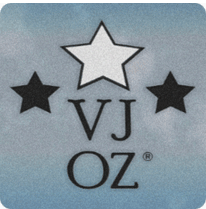 Location: I'm from Columbus, Ohio, for now: my Emerald City. I run a recording studio here called Blue Moon (www.2bluemoon.com) and work with the city's finest lyricists (shout-outs to Niq and Nstinx) as well as bands (The Forties) and artists of just about every other genre.
Musical Strengths: My skills are the strongest in the rock and hip-hop genres, though I really try to go outside the box and add elements of electro, glitch, industrial, even a bit of jazz to spice it up. I play guitar, keys, bass, and sing on my own tracks, rarely use samples because if I cannot play or sing it, I can find someone who can. I also make my own sample sets from old video games, electronic toys, various other things laying around the studio and home and use Ableton live and Kontakt to morph them into viable sounds. Sound design is definitely one of my strong points and is quite addicting.

Influences: My main influences would be Prince, Bowie, Led Zeppelin, MSTRKRFT, Le Castle Vania, LMFAO, Nine Inch Nails, Marilyn Manson, Squarepusher, Aphex Twin, old Stax and Motown recordings, Radiohead, Quincy Jones, Hendrix, M.J.and some 80's Nashville stuff to name some of the things I have soaked up over the years. I had the pleasure of doing some studio work down in Memphis and learned just about everything I know concerning engineering between sitting in on sessions with Ralph Sutton and John Hampton, not to mention the wealth of knowledge from all the historic studios of that town (Sun, Stax). I also learn a lot from the people I work with out of my own studio, good ideas come from just about everywhere.
Video Talent: I have also gotten into video quite heavily, and I am currently compiling and editing footage for more live shows with DJs and artists, mixing visuals on the fly that compliment the music, show images that magnify the meaning and vibe of the songs being performed. That and doing music videos, party montages, various other things.
Hit Talk recommends checking out the video and music that VJ Oz put together for Empireal's awesome joint "American Xpress". Check out the video below.