Jeremy Harding: Sean Paul's Manager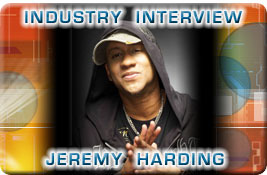 If Jeremy Harding's only claim to fame was managing Sean Paul, it would be more than enough. The young superstar, Paul, has grown his career from its nascent stages, by rocking Kingston dancehalls with hip up-tempo reggae riddims, to full-fledged international stardom, recently greeting thousands of screaming fans from a glittering stage at the Fête de la Musique in Paris. Harding's shrewd managerial diligence has thus been the catalyst for one of the most successful and talented acts to emerge from Jamaica.
Jeremy Harding has become an icon in the Kingston music scene, having worked with several of Jamaica's biggest names on projects like the Dancehall 101 CD series. Despite heavy involvement with those projects, plus managing Sean Paul, he's ready to take on new responsibilities, and to expand his own label, 2 Hard. Harding's own life has been a story of constant evolution and learning. He started his career as a guitarist, moved on to DJing, then to mixing and producing, then to major-league management. His versatility and musical focus are, according to him, a part of the Jamaican DNA. He overflows with

enthusiasm for Jamaica's vast, and multi-talented musical collective, and offers his hard-gained wisdom to any producer, emcee, or musician willing to listen. Hit Talk caught up with Jeremy Harding via phone to talk about the Jamaican music scene, about finding new talent, and about the kind of drive and attitude it takes to succeed in the music industry.
Hit Talk: First of all, why are there so many international stars from Jamaica?
Jeremy Harding: The thing with Jamaica is that we have a very high output of music for such a small country. I think there was actually a statistic done a while ago - we have more recording studios per capita than any other country in the world… They're not big like [the] Hit Factory… they're places where kids set up to record… Artists around here are typically recording every week, sometimes 2, 3 times a week, 4 times, even more.
And because we have large sections of Jamaicans and West Indians living in certain areas like New York, London, Miami and these kind of places, our music travels very easily because we are supported by our own Jamaican and West Indian communities. If you live in New York, or you live in Florida, and you grow up there … you always heard reggae music playing, even as an American, because there's so many damn Jamaicans in New York City.
[It's] like playing baseball, and swinging at every pitch to get a home-run… a lot of them don't really get anywhere, but that's part of the way that they work… I have producers record songs… They'll build a beat, maybe at like 2 in the afternoon, and their artist comes in and hears it at 4, 5, 6 o'clock, writes something and records it, and by midnight they're finished, and he's already uploading it online, [then] you've got promo distribution all over the web. We make records that quickly. When you have so many records being made so fast, you're going to have it spread very easily…
Hit Talk: Are you seeking new talent for your own label, 2 Hard?
| | |
| --- | --- |
| Jeremy Harding: I'm about to start looking around for some new talent to work on. I think I've been very obsessed with managing Sean Paul for the last 6 to 8 years. The good thing about management is that you learn everything about the music business, because there's not an area you're not involved with. From publishing to recording all the way back to touring, to music videos to record promotion – you have your hand in all of it…But yeah, I've been looking at some other artists… Some of them might not be straight reggae as people know it… but Jamaica is a developing nation just like anywhere else… | |
HT: So you're not seeking strictly reggae & dancehall?
JH: Definitely not. People's backgrounds are very varied, man. I grew up playing a guitar and that's how I got into music. I [wanted] to be the next Vernon Reid from Living Color, when I was like 13 years old… It's not that much of a stretch for me to want to do other types of music…
HT: What would you tell producers interested in working with 2 Hard?
JH: First thing that nobody should do: if you want to work with a big hip hop empire, you can't come to them trying to do what they already do. They can already do what they do. They don't need a clone of themselves. I don't need people trying to find me because they do reggae as well, and they're trying to do something which I already can do. Same thing for artists – I already have tons of these guys in Jamaica. I don't need a kid from the States that can make a dancehall beat. I got kids here. You've got to be bringing something different. You've gotta be like "Yo, I hear what you do, and I understand what you do, but I have an extension to it… could it be done in this way or formatted that way?" That I think is more interesting for us, here; we want to expand and we want to grow, too.

The music world, as everybody's aware, is a much smaller place now in terms of access. So, People can reach out and collaborate; everybody's online. The fusion of music is incredible, and it crosses boundaries and borders. You no longer have to be from some place in New York or the West Coast or whatever to make a Hip Hop record, to make a difference. You've got guys from Norway, Stargate, … and they're doing all this American rap and RnB music. There's a lot possible right now. So, as long as people have that kind of thinking where they want to approach people, or work with people, that kind of thing, they've got to be out of the box. I think that's the most important thing.
HT: "Out of the box" - that seems to be a theme we're hearing from A&R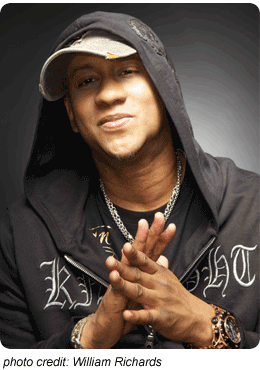 JH: Yeah, I mean sometimes it runs contrary because people say "yeah, but when I go to the major labels and I try to get stuff signed, they're saying "it doesn't sound like this or it doesn't sound like that" It always seems to be a conflict, but at the same time it's a line that you have to walk. You're trying to be very cognizant of what's happening in the industry and what you're trying to be.
If you're just trying to make music for yourself and your friends or to put on your Myspace, that's one thing; but if you're trying to compete in a marketplace of music, then you definitely have to decide [on a] certain direction. It can't be too all-over-the-place. You've got to walk in and be like "This sounds close to this – it's in this vein. I can hear this playing on that radio station, with these other types of artists. So you have to have some amount of familiarity [with regard to genre], but cloning stuff is definitely going to get you nowhere. That's the hard thing, how do you sound familiar enough? Whatever genre you're choosing, you've gotta sound close enough to what everybody else is doing, so you can get in the race with the other people, but at the same time you're always trying to present something with a little bit of a twist on it to make you be noticed… 'cause otherwise they're going to say "Well you're just a clone, what's the big deal, we already have that act. You're a producer, you're trying to shop beats, I got tons of beats, you sound just like that guy, why would I need you?" You've gotta find that relationship. That's a tricky place to try and find.
HT: So home in on a specific genre, then add your own edge?
JH: Yeah, unfortunately, for better or for worse, if a kid walks into a store, or if he goes on line, and he's going to buy a hip hop album, he just wants a hip hop album. He doesn't want a hip hop album that has a little bit of rock, and a little bit of reggae… you know people make records and say "yeah I can do it all, there's a little bit of something for everybody," and that's one of your first, biggest mistakes, because we don't trust it like that.

So, people out there making music, I know you're trying to be versatile, and trying to show people that you can do all these different things but you've got to pick a lane. Pick a lane, and pick a genre, and be specific. Show people that you're specific, otherwise you look like jack of all trades, master of none: "I can know a little bit of everything." [Managers] want somebody who's a genius at one thing. That's what we love. "He's so damn good at that one thing," whatever genre of music it is. You're not looking for a guy that can do it all, nobody really wants that at the end of the day, unfortunately.
HT: In addition to Sean Paul, you've worked with Beenie Man, Elephant Man, Bounty Killer. What about those artists makes them successful in the game?
| | |
| --- | --- |
| JH: Two things: [first, their] work ethic is astounding. People think that because you're in music now, it's an alternative to having a 9 to 5 job. "I'm gonna take the easy road, I'm gonna be a musician. I'm going to studios all day, and I don't have to get up at 9 in the morning and go to a job." It's way worse. Your schedule has no limits on it, there's no cutoff time. Nobody pushes you, you've got to have the energy to do it… So work ethic is what sets these people apart. It's an incredible amount of time people spend. If you're a producer, the amount of time you have to spend on the net looking for samples for example, at places like ModernBeats for example, people don't know the backbone that goes into it. They don't know that I've got to sit down there and sort through like one thousand kick drums just to build good music… | |
A lot of the work, a lot of the research… you gotta read manuals, you gotta go online, and look on tutorials about how to use hardware, software. None of it has anything to do with making hit records. That's just the work, doing the study, operating your equipment.
[Second thing, versatility:] kids here in Jamaica usually run their own studios, too, because we don't have the resources to rent studio time 'cause we don't sell that much records. So kids out here, not only are they operating MPCs, they also know how to run Pro Tools, they also know how to use outboard gear. They know a little bit about pre-mastering their stuff for CDs as well, they've got to to know all this stuff.

…You never know in this industry when you're going to need one skill or another. You might think you're a really great beat maker, but maybe you're a better mixing engineer. You might think your a great engineer and maybe you're a better producer… you never really know, and all these talents come into play.
But, it's getting further than that now… you've got to do all that, plus you've got to know how to put your music up on a blog, for example… I think these are the challenges that people should accept and go into… it's not an easy-way-out business… I've had lots of kids come to me and say "I want to be a producer and I've built this beat, and I've downloaded this software…" When you start to explain to them what they're going to have to go through to actually make it into a full record, you'd be surprised how many just say "ah, forget it, I can't."
HT: It takes more than throwing together a 4-bar beat.
JH: But, you know what? it's easier now, nobody has any complaints. It was much harder back in the 80s, early 90s. You didn't have access to all this stuff. You had to go to a real big studio with a massive mixing board, and a tape machine, and people there who knew how to operate tape machines… but now you have no excuse, you're in a different era, you have all the tools now…
I never had Youtube when I was 9 years old. You can go online right now and learn everything. There is really no excuse now on not knowing how to record, a vocal or which mic I should use, or how do I do something in Pro Tools, or which interface I should get… how can I upgrade my computer? All of it's there…
HT: Do you think dancehall and reggae are having an influence on American Hip Hop?
JH: I think we borrow back and forth from each other. I wouldn't say that reggae is definitely driving that industry… It's very interconnected – it's because of the way that the culture interacts. If Hip Hop kids are in Brooklyn making records, there are a lot of Jamaicans in Brooklyn, so they're going to hear the reggae music.

Miami is a cultural melting pot. In Miami you've got Latin music, they've got reggae, and they have all this other stuff, so of course Miami rappers are going to be influenced by that as well. It's a cultural exchange. Hip Hop looks huge… like a mountain in front of us, and maybe we just look like an anthill, but I think they borrow from the anthill at times, just as we borrow from the mountain.
HT: Do you have any final advice for aspiring emcees and producers?
JH: The best advice I could give… learn an actual instrument; it's going to help you. Even if you think …. you only need to use samples and loops, learning an instrument helps you musically, whether it's a guitar or a keyboard. You teach yourself about melody. It gets your ear trained. It's very, very important. You don't have to be proficient in it, but learn some amount of playing an actual instrument, it's gonna help you… that's number one.
Number two is the same thing we were talking about before: be versatile. Don't be scared to learn how to use software, or to try and mix pop records, or to try and learn how to edit, or do stuff which you think somebody else should do… "I'm just a musician," don't think that way. You never know where this business is going to take you. You start out doing one thing and you end up doing something else, but the sum of all those musical experiences makes you a better manager, makes you a better producer, makes you a better DJ. Each part helps the other part.