Compress Hip Hop Beats
A lot of our readers know that a weak beat can be strengthened with a compressor, but what settings are best for what applications? What are the optimal compression settings for a Hip Hop snare, kick, bass, or percussion? In Hip Hop, if you want to compress like the best, you need knowledge of standard compressor settings used by Hip Hop producers. Though this tip deals expressly with Hip Hop, it applies also to House, Trip Hop, Crunk, Grime, any genre requiring maximum punch. We use Kjaerhus Audio's free audio compressor, the Classic Compressor, to explain which settings dictate which audible result, then we go in-depth by looking at advanced settings using the Sonalksis SV-315.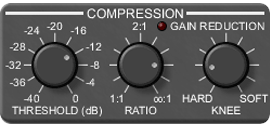 1) Ratio & Threshold settings dictate amount:
In most Hip Hop applications, many heavy weight producers use ratios of 4:1 to 7:1. Ratios of 8:1 & above are more effective for limiting, not compression. Pros generally use threshold settings that range from 10db to 15db of gain reduction on kicks, snares, percussion, bass, or guitar. At left, using the Classic Compressor to shape the sound of an acoustic kick drum, we've set the compressor threshold to -12.4 dB of gain, with a compression ratio of 5:1. Once you've decided on the best compressor ratio and threshold settings, you're ready to add real heat to your beat by using the compressor attack and release settings.
2) Knee dictates sharpness of onset:
The other parameter you see in the above diagram is the compressor knee. When set to "hard," the compressor reduces gain as soon as the gain level exceeds the threshold. When set to "soft," the gain reduction is applied gradually as the gain of the signal approaches the threshold, yielding a gentler effect. This parameter isn't key to optimizing beats, but should be used for compression that's less abrupt.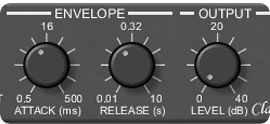 3) Attack times dictate snap:
To ensure the most punch per track in your mix, you need to assign each track it's own compressor attack settings, one at a time. Starting with the kick, set your attack to its fastest possible setting. Next, increase the time of the attack until the kick's timbre dulls slightly. Once you've reached that point, decrease the attack time slightly to recover the original kick timbre, and leave it at that setting. Again, using the Classic Compressor, we've set a value of 9.75ms, preserving the kick's original timbre and sustain, but also adding presence and power. Repeat this method for every track that needs satisfying punch.
4) Release times dictate recovery:
After you've optimized attack for each desired track, you must now assign each of those tracks its own release setting, too. Again, starting with the kick, set your release to its longest possible setting. Next, decrease the time of the release until you hear the compression fully recover the kick's volume before the next kick pulse begins. If the compression release is set at too large a value, then the next kick pulse will

suffer unwanted gain reduction, (breathing or pumping). For the kick drum in our example (in the second illustration), the best compressor release setting turned out to be 17ms. Repeat this method for all other tracks needing optimum volume recovery.
5) Advanced Compression Settings:

To explain compressor fundamentals, we used Kjaerhaus Audio's Classic Compressor because it is straightforward and easy to use (and free). A more intricate device such as the Sonalksis SV-315 compressor above, can offer even greater control over signal processing. Understanding two of its key features, the "Crush" parameter, and the side-chain section, will enable you to take full advantage of our above advice while using more complex devices.
The "Crush" parameter, controls transient gain reduction. Imagine you try out our tips laid out above, but you want a little more snap on the attack of your kick. Lowering the crush parameter in the SV-315 will sharpen up the attacks of each pulse without otherwise altering threshold, ratio, attack or sustain. This technique is vital for preserving the original character of percussion such as crashes, hats, rides, tablas, triangles, and djembes, that have defined attacks, but often require a compressor boost.
The most notable feature of the SV-315 is the side-chain section. You'll find a side-chain section on most pro compressors, gates, and limiters. If you tried our above tips using one of the SV-315's presets, and didn't notice any changes, it was probably because of the side-chain section. A side chained filter tells the compressor gain to respond to a specific range of frequencies. If the sample you're using is devoid of those frequencies, then the compressor won't respond. Most often, however, you can use these filters to achieve a more subtle compression. We should stress that this isn't the same as filtering a signal using a resonant filter or an EQ. We'll put it simply: when using a side-chain filter, some frequencies are routed to the gain control of the compressor, all frequencies pass through the compressor; in other words, some frequencies control the gain reduction, all frequencies are affected by the gain reduction. Dig?
The SV-315 possesses many more well-implemented features, but we figure you have enough to chew on now. Side-chaining is also an extremely useful production tool that we'll explain in later tips. For now, try combining this tip with our previous tip on widening your beats, and we're sure you'll love the results it creates for your music. Stay tuned for more upcoming production tips, and Hit Reports!