With You - Learn Chords, Vocals, Mix
Chris Brown's With You is a stirring masterpiece of music production. Why? Due to its genius of mixing subtlety, vocal production prowess, and captivating chord structure. Hit Talk provides production insight to the inner workings of this innovative Billboard hit. In every Hit Talk post, we first outline the hit's song structure, mix, and frequency separation. Next, we discuss, indepth, the hit's music production including the hit's strongest production element. A full Hit Report containing bonus illustrations, vocal production analysis, Hit Talk's Melody Map, Chord Map, and Groove Map, plus VIP samples can be purchased at the end of this post. Let's get started.


Mix & Frequency Separation
The genius in With You's mix is in its simplicity. The kick is tuned to the root pitch, or tonic, of the song and it changes pitch in sync with the song's chord changes. For the most part, With You's kick fundamental is Ab, but is layered with another sub-bass sample that modulates in pitch as the song progresses. Though listening through a pro monitoring system will reveal the kick's changing pitch, it's still difficult to hear because most kicks don't sustain a discernable pitch for more than a few milliseconds. That's the job of a bassline.
With You seems to be missing a bassline; at least, a conventional one. Brown's Production team, Stargate, has instead opted to substitute a bowed string such as a cello to create a fullness for the pitch changes. Though the range of a cello isn't as low as that of, say, a bass guitar, the cello combines with the tuned kick drum to form a full, yet subtle bassline: a clean, dry mix of cello and kick. Listeners perceive a low bass melody, even if they do so subconsciously. The result is balanced low end, nothing is missing.
Proceeding up the frequency spectrum, in Hit Talk's Frequency Map diagram above, we find the track vocals, illustrated by voc 1, voc 2, and voc 3. Voc 1 represents Chris Brown's natural vocal range - the root pitch of his voice. Voc 2 represents the recorded mid-range overtones and harmonics of Chris Brown's voice. Between voc 2 and voc 3 is a space where Brown's voice is softer, and it is here that the low treble elements of the guitar track provide vital balance to the high frequency spectrum. Finally, the highest overtones of the Brown's voice (voc 3) share the 10-20k range with the cabasa, hi hat and reverse crash. Since those percussive elements are brief, transient beats, they don't drown out the high vocal overtones. Hence they work well playing against the vocals. The revelation of Stargate's deliberate frequency separation of tracks lends aspiring producers insight on how to achieve a pristine, chart-topping mix of their own.
Music and Hook Production
The primary instrument in With You is, of course, the guitar. In the official vid, the guitarist is playing a black Yamaha Compass series 6 string, but the timbral quality of the guitar sounds distinctly rich and resonant like a 12-string. So how can a 6-string sound like a 12-string, is the video just inaccurate? In fact that rich, chorus-like sound emanating from the guitar is not because of the guitar type, but because of the guitar chord shapes.
The opening progression is Eb no3, Eb Maj 7 (no3), Ab/Eb, Eb Maj 7 (no 3). "No 3″ simply means no third - there is a missing third from the chord. The problem is, if you play this progression with more conventional chords, it sounds plain - and wrong. Playing open chords (chords that use open, or un-pressed strings) makes the chord voicings sound richer, because of the chorus effect created by more than one string playing the same note - more like in With You. Yet, so many guitarists use a capo on the first fret, and play open chords that match approximately, but not exactly, sometimes transposing the chords while ignoring the key; hence, one article on ultimate-guitar.com lists the opening progression, as Cadd9 – G – D – Am7.
So, let's set the record straight. Here is how to play With You's opening hook on guitar. First, drop-tune the guitar a semitone or half-step: yielding a tuning of Eb, Ab, Db, F#, Bb, Eb. Second, follow Hit Talk's chord charts below. All chord charts start at the 4th fret, the low E (Eb) string is played open for every chord. That results in the droning Eb you can just barely hear in the beginning of the track. The gray circles mark, from top to bottom, the 5th, 7th and 9th frets, except in the case of Fmaj where they mark the 3rd, 5th, and 7th. Please bear in mind these chord charts represent a guitar that is drop-tuned, all chords are one semi-tone flat - make a mental note of that if you want to play these chords on a guitar in standard tuning.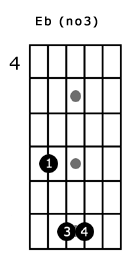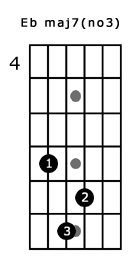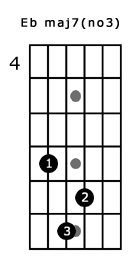 As with all guitar charts, the fingers are numbered 1-4, index-pinky. In the first four chords, the low E (Eb) string is played open for every chord. That results in the droning Eb you can just barely hear in the beginning of the track. Eb(no3) to Eb major 7th(no3) is an easy transition for a guitarist, since you only need to move your pinky and middle fingers to create the maj7. Ab/Eb back to Eb maj7(no3) is more difficult. Each chord shape contains pressed stings that match the pitch of some of the unpressed strings. That's what creates the chorus-like effect that makes this guitar track sound like a 12-string. There. Sound more like it? It's a powerful progression. And if you want to learn more about With You's guitar work, we cover it in even more detail using our groove analysis map -available in our Hit Report found directly below.
The result? Stargate has achieved a sensational guitar composition. Tracking conventional instruments such as guitar with a finesse in chord voicing is key to producing a song's unique character and sound. Hats off to this impressive production team for pulling this hit together.

Order the full "With You" Hit Report & Get it all…

With You Song Format Map! (View All)
With You Frequency Separation Map! (View All)
With You Chord Progression Map! (View All)
With You Song Arrangement Map! (View All)
With You Groove Analysis Map! (View All)
With You Song Arrangement Step-by-Step Report!
With You Music Production Report!
With You Hook Production Report!
With You Vocal Production Report!
With You Chord Progression Report!
With You Mix & Frequency Separation Report!
Super Bonus: VIPKIT#18, 100+ Samples, $30 value!
Instant Download $14.95
Enhance Your Music Production Skills Today!